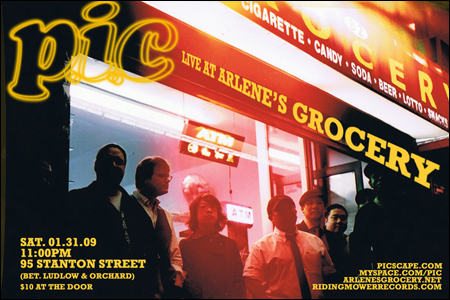 My man Steven Mallorca tells me his band
P.I.C.
will be playing their first show of this year this Saturday, January 31 at Arlene's Grocery in New York. Come on out, dress yourself up, because they'll be shooting the entire set for a liver performance video. Here are the details:
P.I.C - Live taping @ Arlenes Grocery
Saturday 01.31.09
95 Stanton Street (bet. Ludlow & Orchard)
11:30pm
$10 door
If you haven't heard P.I.C., you've got to check them out. They've got this really fun, wonderful hip hip jazzy big band sound. I've got their album
El Nova Hustle
, but I've never actually had the chance to see them live. I'm sure they put on an excellent show. For more information, go
here
.