Uh oh. We know about the whack-ass white people
casting
for the upcoming live-action
Avatar: The Last Airbender
movie, an animated series heavily influenced by anime and Asian culture, and yet somehow completely devoid of any Asian stars in the Hollywood movie version. And we know fans are not happy about it.
Bloggers
and
online fans
, Asian American and otherwise, have been speaking out about Hollywood's latest act of
whitewashing
.
So. Word has gotten out that the production is casting extras this week in the Philadelphia area for this disastrous
Avatar
movie, and they're looking for all sorts of people. Do people really want to be a part of something like this? Apparently. The short version of the casting call:
"Casting folks are looking for extras to play soldiers, martial artists, dancers, gymnasts, athletes and families -- specifically physically fit people from 18 to 65 years old. The open call will be 10 a.m. to 4 p.m. Saturday at Bullies restaurant at the Wachovia Spectrum. You're asked to dress casually or in the traditional costume of your family's ethnic background. Info: lastairbendercasting@gmail.com or 215-574-7878."
Wow. It just gets worse and worse, doesn't it? Hey everybody! Come on out and parade around in your traditional ethnic costume, while white actors get recognition as the real stars of the movie. And maybe they'll let you stand around or walk here and there in the background. Here's the long version, in the form of a forwarded flyer: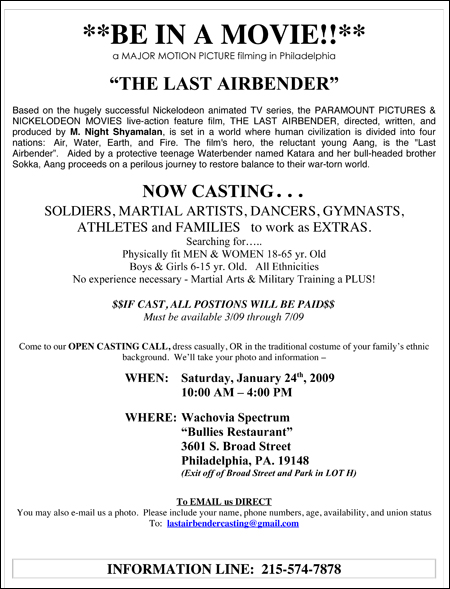 Thankfully, there are those who aren't going to stand by idly and just let this happen.
This site
, which has been spearheading the protest movement against the live action
Avatar
film, is trying to organize an actual physical (but peaceful) protest this Saturday at the site of the extras casting, Bullies restaurant at the Wachovia Spectrum. All the details are
here
.
UPDATE: Some folks sent me
this article
, which includes some brilliant quotes from Deedee Rickets, the
Avatar
movie's casting director:
"We want you to dress in traditional cultural ethnic attire," she said. "If you're Korean, wear a kimono. If you're from Belgium, wear lederhosen."

Another way to stand out is to demonstrate skills such as basket weaving, hair braiding, making clay pots, puppeteering, knitting, looming - "any artisan craft," Rickets said.
Right. Koreans, kimonos, funny Asian outfits... they're all the same. It's apparent that the people making this movie really don't care about the kind of movie they're making, as long as they get to use Asians (and their basket-weaving skills) as props.