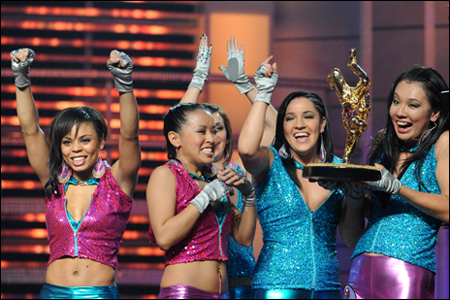 Well, after all is said and done, we have ourselves another winner of MTV's
America's Best Dance Crew
... and I like it. Okay, so I griped over this season a lot. Overall, I just didn't think it was as strong as previous seasons. But with the heart of a true fan, I stuck with it, and I picked a crew to root for. And last night, that crew won:
We Are Heroes
is America's Best Dance Crew.
If anything, this crew was all about perseverance. Week after week, they clawed their way to the top, battling their way out of elimination on multiple occasions, overcoming various injuries, and just showing everybody what it means to really want it. And come on, last week's final performance, with the fire and the crazy caped costumes... that was pretty damn badass.
Some side notes about the finale... How cool was it to see those three crews do a joint routine to Far East Movement's "Girls On The Dance Floor"? It was inevitable, and it was awesome. Also, it was nice to see
Fr3sh
back on the show, if only briefly. You guys departed too soon. But anyway...
There you have it. We Are Heroes takes season four of
America's Best Dance Crew
. Not only are they the first all-female crew to take the trophy... Asians! Once again, we have some serious Asian representation in the winning crew's roster: Hiroka "Hero" Mcrae and Mami Kanemitsu. I don't know how this keeps happening, but it kicks ass. Congratulations, We Are Heroes.
By the way, they're already looking for crews for
Season Five
.