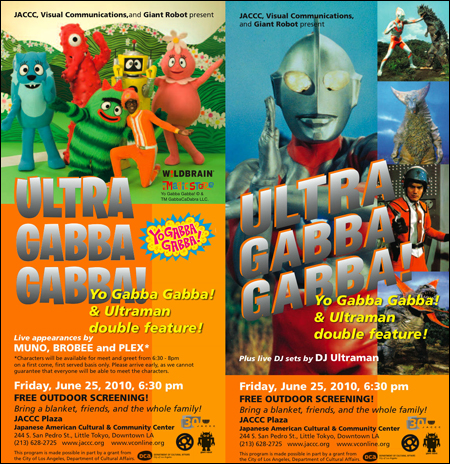 Hey Los Angeles, here's a fun event for the whole family... This Friday, June 25, the Japanese American Cultural & Community Center presents a free outdoor screening -- a double feature! They'll be showing two episodes of the original
Ultraman
and two episodes of
Yo Gabba Gabba
. It's going to be fun! Here's some more information:
The JACCC, Visual Communications and Giant Robot present:

ULTRA GABBA GABBA!: Yo Gabba Gabba & Ultraman double feature
Featuring live appearances by Yo Gabba Gabba characters!
Friday, June 25th 2010, 6:30p - JACCC Plaza

FREE OUTDOOR SCREENING!
JACCC Plaza
244 S. San Pedro St.
Little Tokyo, Downtown LA
Map

LIVE APPEARANCES by Yo Gabba Gabba! characters MUNO, BROBEE and PLEX*
DJ set by DJ Ultraman (Cerritos All*Stars/mETHODOLOGY)

This FREE double feature provides something for both the young and young-at-heart! Come meet the characters from the innovative hit show YO GABBA GABBA! (http://tiny.cc/37sjx) and watch some of your favorite episodes projected on an outdoor screen. The night continues with the iconic Japanese sci-fi show ULTRAMAN (http://tiny.cc/8hpl3).

Break out the lawn chairs and blankets and kick off the summer with this free outdoor screening in Little Tokyo! Classic shows, food trucks and the music of DJ Ultraman all come together under the downtown LA sky for this family friendly event.

Checkout highlights from last year's screening: http://tiny.cc/q1srb

The Lomo Arigato truck (Peruvian/Japanese food) will be there! http://tiny.cc/9g54r

*Characters will be available for meet and greet from 6:30-8p on a first come, first served basis only. Please arrive early, as we cannot guarantee that everyone will be able to meet them.
It's going to be fun! And yes, there will be Yo Gabba Gabba characters in attendance. Don't lie -- you want to meet Muno, Brobee and Plex. Unfortunately, Ultraman was booked for the evening. But it will still be cool. For more information, go to the Facebook event page
here
.