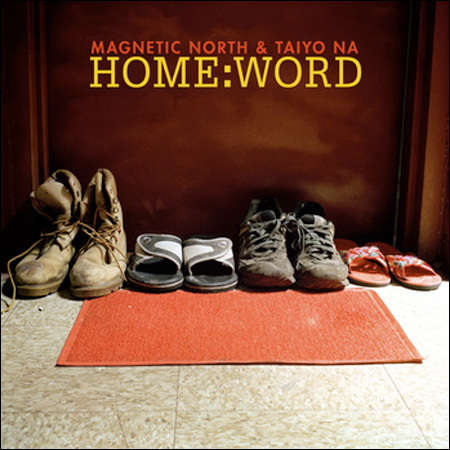 Over the last two weeks, I've been wearing out my copy of
Home/Word
, the recently released collaborative album by
Magnetic North
and
Taiyo Na
. I feel like've been waiting for this record for a long time, but it's totally worth the wait. Here's the blurb from the official press release:
"Home:Word is the highly anticipated collaboration album between Magnetic North and Taiyo Na. Soulful, organic, lyrical and lush, Home:Word is a hip-hop concept album about the journey for home. With a unified sound and theme, the album displays an intimacy and passion uncommon in today's popular music. Live musicianship and intelligent yet accessible storytelling showcase a trio reminiscent of The Fugees, a breath of fresh air within today's hip-hop landscape dominated by brand-name dropping electro-pop and nostalgic coke-rap.

Socially conscious, eclectic, rooted in soul and funk, yet with a polished sheen, the 3 MCs convey a dynamic chemistry and a wide breath of influences heard throughout the 10 tracks of the album. Sampling pioneer folk singer Chris Iijima, the anthemic "We Belong" is a warrior's song against Right-wing anti-immigrant hysteria and the persistence of Hollywood racism. Feel-good jams like "Summertime" and "It'll Work Out" keep the dance floor thumping and the barbeque cooking. The rap ballads of "New Love" and "I'm Here" sit right by your side in a car seat or bedroom pillow, while "Postcards" and the title track bring it all on home.

Home:Word is that rare record that helps to create a new American music, one rooted in American traditions yet re-imagined by global immigrant narratives. It is a new sound by a new group representing a new generation."
From the very first track, it's evident that
Home:Word
is rooted in something real, and after many, many listens, I've concluded that it's one of my favorite albums of the year. You can purchase the new album at the Magnetic North store
here
, or download the album from
Bandcamp
(where ou can also stream the whole album).