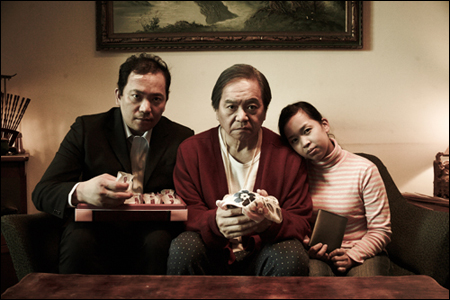 Just wanted to throw out a little wrap-up post for the
Asian American International Film Festival
in New York. The ten-day festivities began with renown Filipino director Raymond Red's
Manila Skies
and closed with Quentin Lee's The People I've Slept With followed by weekend community screenings in Harlem and Queens.
In addition, AAIFF handed out awards, celebrating the best achievements in film and media by Asian and Asian American artists. Here's the list of winners:
One to Watch Award
(for filmmakers under the age of 21)
Adam Lee for
The Prodigy
Excellence in Short Filmmaking Award
Mochi
directed by Chung Lee
Best Emerging Director in Documentary Feature Award
Stephanie Wang-Breal for
Wo Ai Ni Mommy
Best Emerging Director in Narrative Feature Award
Hakon Liu for
Miss Kicki
Audience Choice Award
9500 Liberty
directed by Eric Byler and Annabel Park
For more information about the award winners, go to the AAIFF website
here
.
And in case you missed the Closing Night film
The People I Slept With
(or maybe you want to see it again), it's doing a limited theatrical release at the Clearview Chelsea starting August 13. For more information, go to
The People I've Slept With
website
here
.