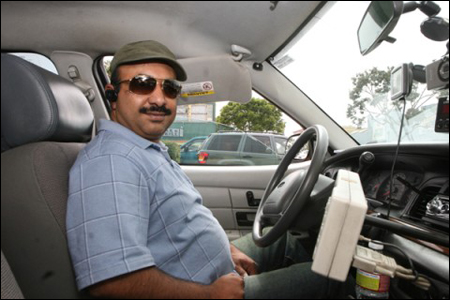 Next time you're in Southern California and partying in the South Bay, make sure you ride in style and in tune with my man Muffasa, who runs his very own Karaoke Taxi -- fairly common in Asia, but not so much in, say, Redondo Beach:
A tuneful taxi hits South Bay streets
. It all started with a karaoke machine... and a dream:
The idea of a karaoke taxi started at a dinner party. The karaoke machine had been a big hit, but the DJ was leaving and taking the fun with him. When he saw the disappointment of the people around him, Muffasa, an employee of All Yellow Taxi Inc., had an ingenious idea. Why couldn't karaoke be portable?

Muffasa said that after that party he began brainstorming with his friends about how to install karaoke in a taxi.

"First we bought a DVD, then we bought speakers, then we bought TVs, then we made the sound clear, amplified, a lot of stuff," he said. "Then we started it."

Muffasa, a half Indian and half Pakistani university student, moved to the United States in 2004 and has been operating his karaoke taxicab for almost three years. The taxi boasts two 11-inch LCD monitors on the backs of both headrests, two microphones, and an actual karaoke program that rates your singing. Plus, there's surround sound and the process is simple and similar to actual karaoke. Simply open up the hefty book of songs in the back seat, punch the song number into the microphone, and start singing.
It's time to get your portable party on with a selection from Muffasa's hand-picked karaoke book. Oh, it doesn't stop when you leave the bar. You can sing your song all the way home. Good singer, bad singer -- it doesn't matter. Muffasa is your man. To catch a ride on the Karaoke Taxi, text (310) 808-5146.