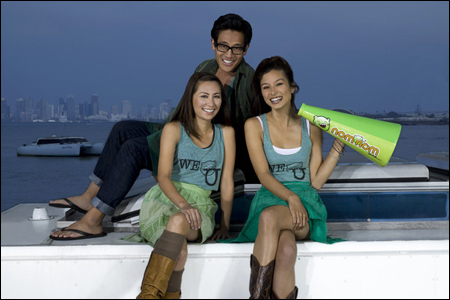 I was flipping channels the other day and came across a promo for
The Great Food Truck Race
, in which seven food trucks travel the country and compete in various challenges for a $50,000 grand prize. Among the teams competing, I immediately recognized the bright green
Nom Nom Truck
, serving up banh mi to the good people of Los Angeles:
Nom Nom Truck

Los Angeles, Calif. - Nom Nom Truck brings fusion and traditional Vietnamese sandwiches and tacos to the masses, using fun recipes and fresh ingredients. After meeting at UCLA, Misa Chien and Jennifer Green jumped at the idea to take Vietnamese cuisine mainstream, and David Kien, impressed by the truck's concept, quickly joined as manager. Smart, savvy and dedicated, they know they will be tough to beat because all anyone can say as they eat their food is "nom nom nom."
The Great Food Truck Race
premieres Sunday, August 15 on the Food Network. A little more info on the Nom Nom Truck website:
The secret is out! Mark your calendars for August 15th for the Great Food Truck Race!!