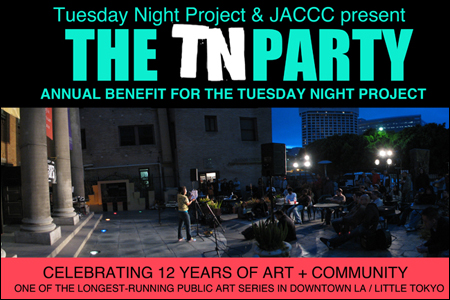 Okay, my Los Angeles friends... Just wanted to throw out one last reminder that
The TN Party
, presented by Tuesday Night Project and the JACCC, is happening this Saturday, July 31. It's going to be epic!It's art and music and food and dancing and community, all under the downtown sky. Here are the details:
Tuesday Night Project & JACCC present

THE TN PARTY
Annual Benefit for the Tuesday Night Project

Celebrating 12 Years of Art & Community

Saturday, July 31
5:00 - 11:00pm @ JACCC Plaza
244 S. San Pedro St.
Los Angeles CA 90012

Tickets on sale NOW at www.tuesdaynightproject.org

$15 pre-sale / $20 at the door

With performances by:

-Mista Cookie Jar
http://mistacookiejar.com/

-Progressive Taiko
http://progressivetaiko.wordpress.com/

-Freedom Sounds (poongmul Korean drumming)

-Bambu
http://bambu.la/

-SueJin w/ Jenny San Angel
http://www.myspace.com/suejinmusic
http://www.myspace.com/jennysanangel

-Rocky Rivera & DJ Roza
http://www.rockyrivera.com/

-Durwood (Golda Inquito & Gertie Meza) & Applesauce (David Tran)
http://durwoodmusic.net/
http://www.myspace.com/worldofapplesauce

-Dawen
http://www.dawen.us/

-Harlem Lee (winner of 2007 show Fame)
A sample of his performance:
http://www.youtube.com/watch?v=i3RB-vAzOL

Featuring guest emcees:
Alden Ray
Greg Watanabe
Keiko Agena
Kennedy Kabasares
Kristina Wong

Featuring Artisan Vendors:
Blacklava
Beatrock
Koko Candles
Mango Pop
By Belinda
Los Switcheros
John Reinert Cardboard Furnishings

Featuring Live Painters:
Benancio Blascoe
Alfie Numeric
Avery Ota
Luke Patterson
Yumi Sakugawa
Jenny Yoo
Alex Gardner
Mariya Suzuki

Featuring Dance Captains:
Robert Covarrubias
Lindy Fujimoto
Brian Takahashi
Michael Villanueva

Featuring video and image madness from Visual Communications!
Yo, that's a lot of crazy awesome stuff going down in one night. Proceeds will benefit the Tuesday Night Project, one of the longest-running public art series in downtown Los Angeles/Little Tokyo. There will be food. For more informationa about the party, and how you support the Tuesday Night Project, go
here
. And bring your friends!