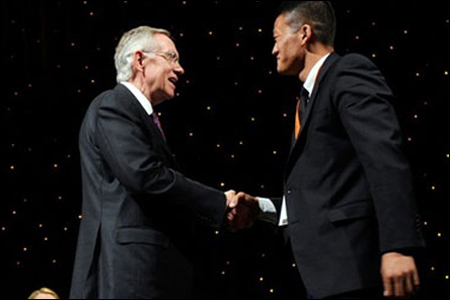 This weekend at the Netroots Nation conference in Las Vegas, Senate Majority Leader Harry Reid recognized gay rights activist Lt. Dan Choi before giving his speech, telling those gathered that Choi shouldn't have been booted by the U.S. military:
Harry Reid Gives Dan Choi a Moment in the Sun
. Here's video of their exchange (watch the security guy get a little antsy when Dan gets up on stage):
Choi, in turn, gave Reid his West Point ring, as symbol of accountability. While Reid was reluctant to accept it at first, he agreed to keep it safe until the U.S. military's 'Don't Ask Don't Tell' policy is finally repealed:
When Reid sat down to answer prepared questions, the first question came from Choi -- with a gift attached.

Choi gave Reid his West Point ring. Reid initially declined keeping the ring, but after pressure was put on him by Choi and audience members, he agreed to keep it until the Don't Ask, Don't Tell policy is finally repealed.

Choi greeted this by walking to the barricade in front of the stage and saluting Reid, who saluted back. Then Choi sent security into frenzy by stepping over the barrier and climbing onto the stage. Reid embraced the former soldier.

"We're going to hold you accountable," Choi said to Reid as the two shook hands.
More here:
Reid Makes a Promise to Dan Choi for Gay Rights
. The moment won Reid loud cheers and a standing ovation from the crowed. From what I hear from those who were there, it was an emotional, classy and powerful moment. Let's hope it wasn't all theatrics and he'll see this thing all the way through.