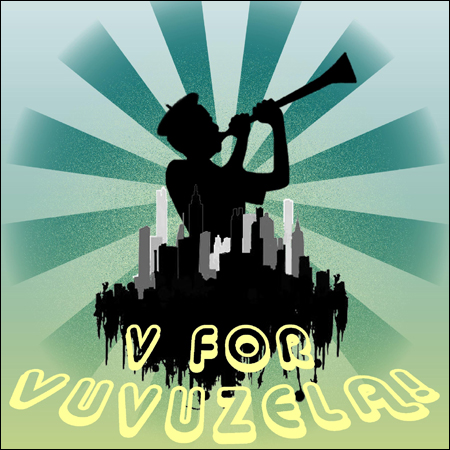 Next week, our friends at Visual Communications proudly present
V for Vuvuzela!
, a selection of short films to be screened as part of the VC Summer Series 2010, featuring works from the 26th Los Angeles Asian Pacific Film Festival as well as newer pieces by local artists. It's happening Thursday, August 5 at the David Henry Hwang Theatre in Little Tokyo. Here are some details:
V for Vuvuzela!

SUMMER FILM SCREENING
THURSDAY, AUGUST 5, 2010, 8:00 P.M. AT THE DAVID HENRY HWANG THEATRE

Sound your vuvuzelas and spread the buzz because it's finally here… the showcase completely assembled, curated, and presented by our stable of Visual Communications summer interns! "V for Vuvuzela!" spotlights some of the most intriguing pieces from our recent Film Festival and also serves as the premiere of newer works by local filmmakers, such as Wesley Chan from Wong Fu Productions and music video director Patricio Ginelsa. We invite you to join us as we celebrate once again some of our community's most talented cinema artists.

"V for Vuvuzela!" will be on Thursday, August 5, 2010, 8:00 p.m. at the David Henry Hwang Theatre at the Union Center for the Arts, 120 Judge John Aiso Street, Little Tokyo, Los Angeles, 90012. A pre-reception will begin at 7:00 p.m. with light snacks, drinks, and raffle ticket sales. A post-reception will follow the program with drinks, raffle ticket announcements, and food provided by Bool Korean BBQ Food Truck.

TICKETS
$8 Students/Seniors/Friends of Visual Communications Members w/I.D.
$10 General Admissions
Tickets will be sold on location 1 hour prior to the screening. For more information call (213) 680-4462x58.

PARKING
Parking is available at City Lot #7 (entrance adjacent to Theatre; enter at Judge John Aiso St.).
Should be a fun time! For the full lineup and description of all the films, which includes works by Alex Munoz, Kristina Wong and D'Lo, Patricio Ginelsa and Wesley Chan of Wong Fu Productions, head over to the Visual Communications website
here
.