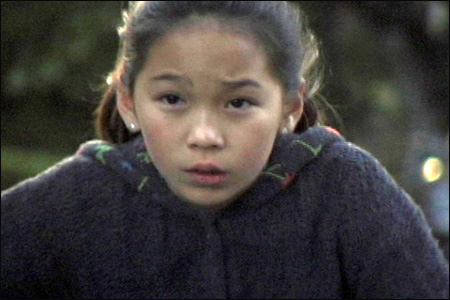 Spotlighting a few of the many great films screening at the 2011 Los Angeles Asian Pacific Film Festial, running April 28 through May 7... Vicky Shen and Zoe Bui's indie feature
Adultolescence
is about an artist suffering from post-college career ennui, who returns home to live with her parents. The film deals with familial disconnection, post-grad adulthood and today's media generation, with a dash of Tiger Mother drama thrown in. From the LAAPFF website:
Lea May, an aspiring screenwriter suffering from post-college career ennui,
returns home after getting fired from a low-level job and is catapulted back into her real but tainted memories of growing up under the withering scrutiny of her immigrant mother's watchful eye. As she films her present-day family and learns what it means to become an artist, Lea must confront the variations of truth that has led her to her own stagnancy and blame. By rejecting reality and living in an imaginary 'playland,' Lea observes her life outside of herself from behind a fictitious camera. A place where Lea's fantasy life bleeds with reality occurs at a local surf spot. She plays out her desire to conquer the male-dominated world of her profession by conquering the territorial world of surfing. She is in control of her own life when she steers her 'audience' through her unique vision, even if the audience is only herself. She rationalizes life 'failures' by making them meaningful in her fictitious life.
Unable to discern between living in a fantasy world (adolescence) and living in the reality of the world (adulthood), Lea relentlessly explores which world in which she lives through her subconscious, as seen through her home video camera. Shooting as if conducting her own kind of sociological experiment, Lea seeks to understand her family, searches for value from them, and sees what Mom's like when she thinks no one's looking. This filmic perspective evolves and becomes more organic as Lea reevaluates the definitions she has created for her family by seeing the humanity in them, and growing to accept herself. By turns, Lea realizes there is no escape, fantasy or otherwise, from the unconditional and almost insufferable love she shares with her mother. ADULTOLESCENCE, ultimately, deals with the opposing forces of family dynamics: the disconnect yet undying bond between family members. As Lea tries to reconcile her relationship with her parents, she is forced to recognize the false world she's created for herself and acknowledge her imprisonment to ideas of family and idealized fulfillment. (adapted from production notes)
Adultolescence
screens Friday, April 29 at the Directors Guild of America in West Hollywood. For more information about the screning, and to purchase tickets, go to the LAAPFF website
here
. You can also visit the film's official website
here
.