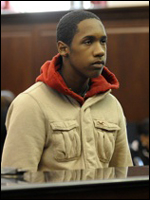 Caught, suckas! In New York, police have arrested two of the four teens
caught on tape
beating and attempting to rob a Chinese food delivery man last Friday in Manhattan:
Two Arrested in Attack on Deliveryman Caught on Tape
.
Police announced Wednesday that they had arrested 16-year-old Charles Codrington of the Bronx and a 15-year-old boy whose name was not released. The two were part of a group who placed a Chinese food order and lured the delivery man to a sixth-floor apartment in Morningside Heights. Fortunately, the victim wasn't seriously hurt.
Both suspects charged with burglary and robbery:
Police say they arrested Bronx resident Charles Codrington, 16, and another 15-year-old boy.

Authorities say last Friday four teenagers ordered Chinese food, then stood outside the sixth-floor elevator at 40 Morningside Avenue waiting for the victim to arrive.
They also say three of the teens beat the man while the fourth acted as a lookout.

The attempted robbery and assault was caught on surveillance video.

Police say the suspects ordered Chinese food and then waited outside the sixth-floor elevator for the deliveryman to arrive.

The teens beat the deliveryman and tried to get money from his pocket, but he had no cash on him, according to police.
Damn punkass kids. Of course, Codrington's mom insists that he's "a good kid." Sorry, honors student or not, I can muster very little sympathy for the guy who used his own cell phone to set up the delivery attack:
Momma's boy charged in Chinese food delivery beat-down
Police are still looking for the two other suspects. Anyone with information on the case should contact the Crime Stoppers hotline at 1-800-577-TIPS, or text CRIMES and then enter TIP577, or visit the
Crime Stoppers website
.