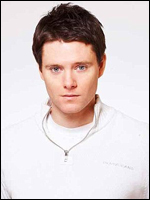 As people try to make sense of the shocking murder of exchange student Quian 'Necole' Liu in Toronto -- an attack that was witnessed by her horrified boyfriend in China via webcam -- some disturbing details have begun to emerge about accused killer Brian Scott Dickson, who apparently lived in the same building as Liu:
Accused in Liu murder allegedly posted about drugs and porn
.
Dickson allegedly authored a series of posts about drugs and pornography on a web forum devoted to urban Canada. He also apparently wrote a bunch of messages promoting incest and pedophilia on a forum for nudists. And surprise, surprise -- all of Dickson's favorite porn stars just happen to be Asian:
In one post from 2004 titled "E, MDMA, Shrooms, Hash, Coke, Crystal," he wrote: "So my friends and I are going to OM [summer music festival] this year and we were all talking about what drugs to bring. We were thinking of the following listed in the title but I was hoping to get some feedback on which ones would be better for this festival?"

Another post is devoted to the author's favourite porn stars, all of whom are Asian. A separate post asks for advice on how to get "revenge on someone that owes you money... Besides beating the crap out of them what can you do?"

The posts on nudistspace.ca are markedly more lurid. The author repeatedly lists Mr. Dickson's email address and invites readers to chat with him via MSN.

One post refers to Asian girls between the ages of 12 and 16 as "my favorite [sic] type of girls," while others advocate incest and sex with minors.
This guy sounds like one hell of a freakjob. It's the kind of stuff you just do not want to hear about the guy who might just happen to living in the apartment next door. One woman apparently
went on a couple of dates
with Dickson before cutting things off because she had heard "disturbing things" about him from friends.
Meanwhile, two families -- Liu's parents and Dickson's parents -- are left to deal with the horror and anguish of what happened. While there is widespread sympathy for Liu's parents, the Dicksons have been under intense scrutiny:
Slaying of York student leaves two anguished families
.