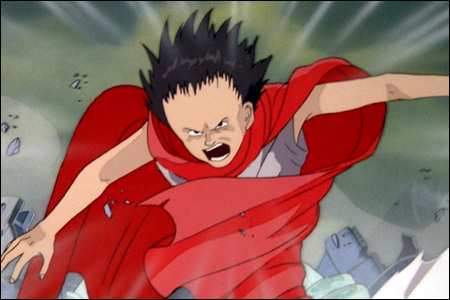 For those who were rejoicing over rumors that the live action adaptation of
Akira
was finished... not so fast. Last week, Warner Brothers announced that it is indeed moving ahead with the project with a lower revised budget and Spanish director Jaume Collet-Serra at the helm:
Warner Bros. taps 'Unknown' director for 'Akira.'
We've been following the crazy saga behind the making of this film for years. We collectively groaned when we learned that the script re-set the movie in "New Mahattan." We screamed "hell no" when it was reported they were looking to fill the cast with a bunch of
white dudes
. Then I breathed a sigh of relief when word got out the project was presumed dead. But it looks like it's still on:
Warner Bros. is moving ahead with its remake of "Akira" in a fiscally sensible way, tapping reliable Spanish helmer Jaume Collet-Serra ("Orphan," "Unknown") to direct a live-action version of the anime cult hit at a lower revised budget of $90 million.

WB acquired the potential tentpole project for a seven-figure sum from Japanese manga publisher Kodansha in 2008. Ruairi Robinson and Albert Hughes were previously attached to direct the adaptation of Katsuhiro Otomo's graphic novel, but Hughes exited amicably in May over creative differences.

Gary Whitta was the first writer attached, while Albert Torres and the team of Mark Fergus and Hawk Ostby also contributed drafts. Steve Kloves, WB's go-to scribe for its lucrative "Harry Potter" franchise, most recently polished Torres' draft.

Set in New Manhattan, the cyberpunk sci-fi epic follows the leader of a biker gang who must save his friend, discovered with potentially destructive psychokinetic abilities, from government medical experimentats.

It sounds like the studio is trying to get a handle on this project before costs get out of control. I don't know what this means for casting, but until we hear otherwise, I think it's safe to assume they're sticking with the original plan.
Akira
... starring white people! At this point, I'm just tired of it, and they haven't even filmed a single shot.