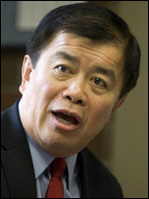 Sooner or later, the controversy was going to be too much. Scandalized Oregon Congressman David Wu has announced that he is resigning amid allegations that he had an unwanted sexual encounter with an 18-year-old woman:
Rep. David Wu announces he will resign after accusations of sexual misconduct
.
When the accusations went public last week, a defiant Rep. Wu initially refused to step down, but announced that he would not seek re-election in 2012. But it looks like public pressure and calls for an ethics investigation from Democratic leaders have finally pushed him to resign. Here's his
statement
of resignation:
"It has been the greatest privilege of my life to be a United States Congressman. Rare is the nation in which an immigrant child can become a national political figure. I thank God and my parents for the privilege of being an American.

More
The Oregonian's continuing coverage of David Wu in Congress
"Now, however, the time has come to hand on the privilege of high office. I cannot care for my family the way I wish while serving in Congress and fighting these very serious allegations.

"The well being of my children must come before anything else. With great sadness, I therefore intend to resign effective upon the resolution of the debt-ceiling crisis. This is the right decision for my family, the institution of the House, and my colleagues.

"It is also the only correct decision to avoid any distraction from the important work at hand in Washington. I intend to go forward with new resolve and love of family, the State of Oregon, and our nation."
It was only a matter of time before Rep. Wu's long history of weird and wildly inappropriate behavior finally caught up with him. It was his own undoing. Frankly, I'm just surprised that it took this long. It's time to move on. More coverage from
The Oregonian
here
.