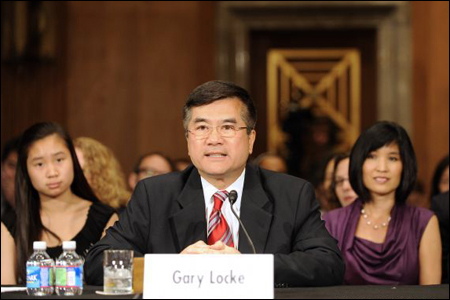 Yesterday, the Senate unanimously confirmed outgoing Commerce Secretary and former Washington governor Gary Locke as the next U.S. ambassador to China:
Gary Locke confirmed as U.S. ambassador to China
.
Locke, who is already a pioneer in politics, is the first Chinese American to serve as ambassador to Beijing. He replaces Republican Jon Huntsman, who left the position to enter the 2012 presidential race. I can't think of a more qualified public servant to take up the post.
He will arrive in Beijing at a delicate time in U.S.-China relations. The two countries only recently resumed military ties after a period of tension; China cut off most contact with the Pentagon last year after the United States sold arms to Taiwan and President Obama met with the Dalai Lama.

Yet even as they have become more competitive militarily and diplomatically, the United States and China are in some ways more intertwined than ever. China is the largest foreign holder of U.S. debt — a fact that now has China nervously watching the roiling debt ceiling debate in Washington.

Locke became the first Chinese-American governor during his rise to prominence in Washington state. His visibility and expertise in global trade has helped him nurture ties in the Chinese business world.
He's got a hell of a job ahead of him. Locke fills a critical role in U.S.-China relations -- a relationship that gets more complicated every day. Best wishes to him and his family, now Beijing-bound. More here:
Senate Confirms Locke as U.S. Ambassador to China
.