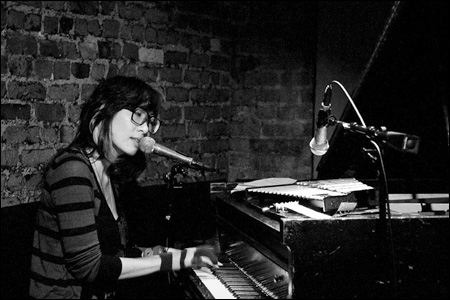 Aloha! I'm on vacation, taking a much-needed break from blogging for a bit. But it's all good, because I've enlisted the help of some great guest bloggers to keep things going around here. Here's singer/songwriter Jane Lui on Craigslist, her favorite things and silly assumptions.
Spoke to a seller on the phone off Craigslist, I arrived, and knocked on her door.
Before any hellos, she looked and said, "Oh but you don't SOUND asian."
To start, here are some of my favorite things:
Brazilian & Gyspy Jazz

Cigar boxes, old typewriters, wind-up pocket watches, old suitcases.

Old bookstores with clutter

Gospel, choral, organ, and circus music

French, Portuguese

bridges, abandoned buildings, construction sites, chimneys

uncontrollable laughter

When I list off these things, I sometimes get the "huh" face. As an immigrant, what choices did she make to indulge in THESE things? My father said one day when I was in high school, "Jane, you can do something you love, or something with security." This is the same man who said, "Make American friends so you'll start thinking in English."

In both instances, his tone of voice was such that I heard, "Jane, pick the Chinese role for this part of your life, but American for the other." So as all teens do, I had to develop an opinion of good character, but then honed in on sifting through traits east and west. What made sense to me is what you see now, a blob of Gyspy-Jazz-swingin' portuguese-singing Chinese who can't stand most Chinese food.

For better or for worse, when silly assumptions are placed on me, I never feel offended, and have no fight in me to prove otherwise. You see, it's my joy that lies in the options, that I've had plenty to pick from and work towards, and never just east and west anymore. It's not the Chinese in me that's influenced my songwriting the most, it was the blank slate against the new world, which without western historical context, I absorbed openly from.

I get a lot of questions along the lines of "what does it mean to be an Asian American artist?"

It's an important question and I'm all about mutual support, empowerment, and discussion. But if we have the sense to ask for the meaning of being one type of person, why stop there?

"What does it mean to experience the world with a traveler's curiosity?"

"What things foreign or familiar can we fall in love with and make part of our identity?"

Wouldn't the answer to these questions act as a better fit to form opinions from, so we're not limited to the options of color and location?

And for the Ms. Craigslist in each of us: I don't think assumptions are going away anytime soon... so pay closer attention and just make'm less lazy, k?



Jane Lui is a singer/songwriter originally from Hong Kong. Her latest record Goodnight Company was nominated in San Diego Music Awards, and she wrote this post while watching tango dancing at Cafe Bassam in San Diego.