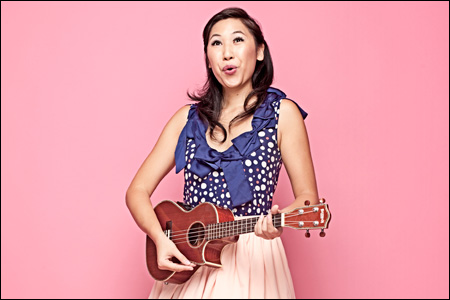 Aloha! I'm on vacation, taking a much-needed break from blogging for a bit. But it's all good, because I've enlisted the help of some great guest bloggers to keep things going around here. Here's Jen Kwok on quitting your "professional, stereotypically first generation-y job" to follow your dreams.
OK guys, I have to get all inspirational and self help-y on this one. When Angry asked me to guest blog, I knew I wanted to say something to my peeps that meant a lot to me and might be able to help someone (other than telling you guys to
f*** each other
).
Remember when you had dreams as a little kid? Maybe you wanted to be a fireman or a ballerina or a dragon? In the far reaches of my mind, I wanted to be a comedian. And now I am one. I never thought in a million years I would actually be doing this. After spending four years as an overachieving business major and working as an auditor for Ernst & Young, becoming an entertainer never even seemed like a remote possibility.
Four years ago, I took improv classes at
Upright Citizens Brigade Theatre
on a total whim. After a year, I tried stand-up a few times -- and then quit for almost a year thanks to some pretty hardcore stage fright. Then came musical improv classes at
The Peoples Improv Theatre
and the ukulele. Now I'm touring colleges, getting home from burlesque shows at 3am and have even spent a little
time with James Franco
.
And I'm not the only one who has done this -- that is, quit a professional, stereotypically first generation-y job to become a performer. Here are some others: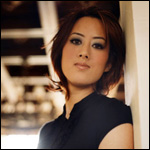 Vienna Teng
- Recording artist (
Late Show with David Letterman
, toured with Duncan Sheik/Madeleine Peyroux) and former Cisco Systems employee and business school grad.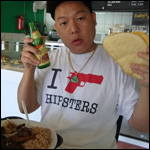 Eddie Huang
- Renegade chef (Baohaus, Xiao Ye) and law school grad.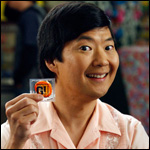 Ken Jeong
- Perhaps most famously, Ken Jeong (
Community
,
The Hangover
) practiced medicine during the day and moonlighted as comedian "Dr. Ken." He was still working at Kaiser Permanente when he did
Knocked Up
(in which he played a doctor).
I'm not saying that the road to becoming a performer -- or following any dream -- is an easy one. It's not -- it's soooo not (another post for another time)! But if you have a dream that's stuffed way down there, please don't
Raisin in the Sun
it. Even if you're doing it for fun on the side, give it a shot.
Give yourself a goddamn shot. With so many DIY platforms in the world, you can put yourself out there whether it's YouTube, etsy or a good old fashioned open mic (and if you're in NY, I cordially invite you to the monthly
AAWW
open mics I co-host with
Ed Lin
).
Life's too short to do what someone else wants you to do or to do what you think you're "supposed" to do.
Do YOU. HARD.
(And get your mind out of the gutter.)

Jen Kwok is a comedian, writer, actress and ukulele player. She's a host of PBS' Asian America and appeared in the film "Eat, Pray, Love". Her work has been featured by MTV, CNN and The New York Times, and is best known for her viral hit, "Date an Asian."