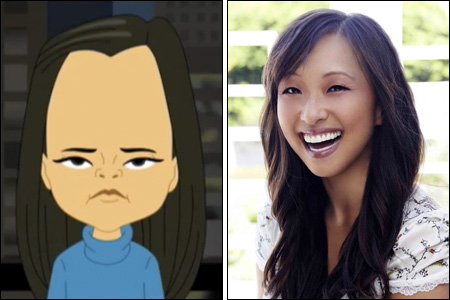 Heads up. Our friend, actress Joy Osmanski, stars in the next FOX animated series
Allen Gregory
, which premieres this Sunday, October 30 as part of the network's animation block (right after
The Simpsons
). Joy supplies the voice of Julie DeLongpre, Allen Gregory's sister. Here's a
preview
of the show, which gives you a glimpse of this offbeat family:
Here's a description of Julie, from the Fox website:
Allen Gregory's 11-year-old adopted sister from Cambodia. She absolutely despises Allen Gregory, if not both of her fathers and life in general. To say she's "not the favorite child" is putting it nicely. At school she has her two best friends, Beth and Val, but they aren't exactly high on the social structure. So she isn't looking forward to Allen Gregory coming and rubbing his perfectness in her face day in and day out. But Julie is surprised/elated by the discovery that her brother isn't accepted by the other kids. She realizes that maybe he can take the "loser" spotlight, and her life at school could be somewhat tolerable. She will make it her life mission to keep him there.
And here's Joy in a character
profile
about Julie De Longpre:
Whoa. I love the way they've drawn her character. That's not a forehead -- that's a fivehead. Based on what I've seen, it looks pretty damn funny. I'll be tuning in. Also, Joy is my homegirl, so I gotta support.
Allen Gregory
premieres this Sunday, October 30, 8:30pm on FOX. For more information about the show, go
here
.