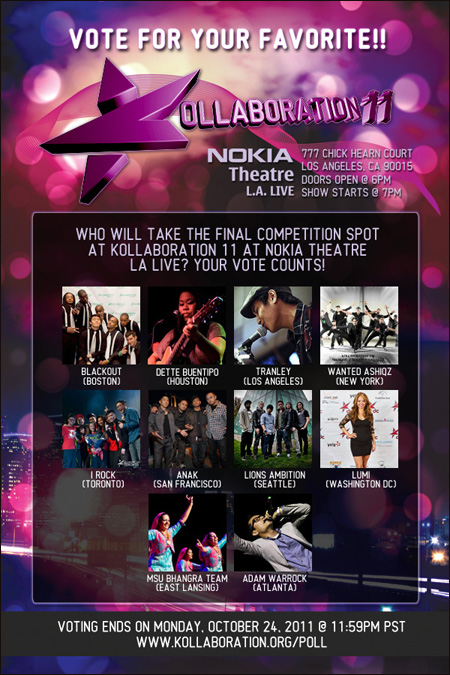 So check it. The nationwide Kollaboration talent show movement returns to its roots to present the flagship show,
Kollaboration 11
, happening Saturday, November 5 at the Nokia Theatre in Los Angeles.
The competitive lineup includes afterschoolspecial, Andrew Figueroa Chiang and the Blazing Rays of the Sun, Dawen, Emanon Dance Crew, Inch Chua, Monsters Calling Home and Noel Kunz. That's a solid group.
But wait! They've left room for an
eighth competitor
. The individual winners from Kollaboration shows around the country are competing for that competition final spot, and your
vote
will help determine who gets to show their stuff. Do it now, because voting closes Monday, October 24 at 11:59pm EST.
I'm not super familiar with most of the competitors, but if I'm going to be honest, I have throw down my support for rapper Adam WarRock, aka Eugene Ahn, winner of Kollaboration Atlanta with his song
"Angry Asian Man."
I'm voting for him, for obvious reasons. Here's video of his winning performance:
As I write this, he's not doing so well in the voting. But I gotta show my support. Watch videos of all the competitors and vote for you favorite
here
. And for further information about Kollaboration 11, go
here
.