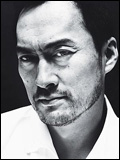 This news might not matter much to folks who have all but given up on the live-action
Akira
remake...
It's being reported that Gary Oldman has passed on the role of The Colonel, and the part has been offered to Ken Watanabe instead:
BREAKING: No Oldman For AKIRA, WB Offering The Colonel To Ken Watanabe
.
Seems like Watanabe has become Warner Brothers' go-to actor when they need an Asian guy up in there. Then again, he was their second choice for the role. But he does feel like a perfect fit for The Colonel.
Twitch broke word late in October that Gary Oldman had been offered the part of The Colonel in the film and now, with the actor and Warner Brothers unable to close the deal, we have learned that the part is being offered to Ken Watanabe instead.

That it's an obvious choice - all but two of Watanabe's American efforts having been Warner Brothers productions - makes it no less a good one. Watanabe is one of very few Japanese actors with any sort of American profile at all to keep the marketers happy and is also a very, very fine performer with the kind of gravity that the part requires.

I guess it finally dawned on somebody that it might be a good idea to include an actual Japanese person in this muthaeffin' movie? Nice gesture. Fans thank you for throwing us a bone. But it's not enough to make me give a crap anymore.