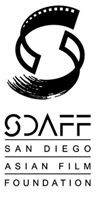 Hey, filmmakers. The San Diego Asian Film Foundation invites you to
submit your work
to the 2012 San Diego Asian Film Festival, the largest showcase of Asian cinema in the Western United States.
They're looking for narrative features, narrative shorts, documentary features, documentary shorts, and short animation. So a little bit of everything.
The early deadline (April 1) is coming up quick, so be sure to get your film in early to save a couple of bucks on the submission fee. Here's some more information:
San Diego Asian Film Festival - Call for Entries 2012

In January 2012, we will begin accepting submissions for the 13th San Diego Asian Film Festival, November 1-9, 2012.

The Festival offers awards for films in the following categories: Narrative Feature, Documentary Feature, Narrative Short, Documentary Short, Animated Short. Additionally, cash prizes are awarded for the Grand Jury Award (eligible to submissions in all categories) and George C. Lin Emerging Filmmaker Award (eligible to all submissions by first-time feature filmmakers).

1. Online via Withoutabox

Withoutabox is a free service that helps filmmakers submit their films to over 900 film festivals around the world with a single application.

2. By Mail

Download application and rules of entry. Submit the completed form, along with a DVD screener and entry fee, to:

San Diego Asian Film Foundation
c/o Entry Coordinator
2508 Historic Decatur Road #140
San Diego, CA 92106, USA.

You will be notified of festival decisions around July 2012.
The 13th San Diego Asian Film Festival is scheduled to go down November 1-9, 2012. For further information on how to submit your film, including rules, entry forms and other festival details, go to the SDAFF website
here
. Good luck.