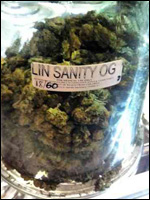 So I heard that Jeremy Lin's representation had been taking steps to trademark "Linsanity" and other uses of his name. This is understandable, but at this point, nearly impossible to regulate. But one thing that's definitely not going to get the official Linsanity seal of approval:
marijuana
.
Lawyers for the Knicks' point guard have reportedly sent cease-and-desist notifications to three California medical marijuana dispensaries who have been offering a variety of weed they've named "Linsanity":
Linsanity Marijuana Has Jeremy Lin's Lawyers Seeing Red
.
Jeremy Lin's legal team has sent a flurry of cease-and-desist letters to medical marijuana dispensaries offering "Linsanity" brand pot, and a few shops have already complied, a lawyer for the New York Knicks star told The Huffington Post on Wednesday.

"Their enthusiasm for Jeremy Lin got ahead of their understanding of the law," said Pamela Deese of the Washington, D.C., firm Arent Fox.

Although Deese would not name the companies, HuffPost found at least three California dispensaries that have stopped their doobie-ous enterprise.
I guess you know you've really made it when they start naming weed after you. Some dispensaries have removed Linsanity from their menus, while one apparently just renamed the pot "Insanity."
Meanwhile, I'm grabbing dinner tonight at a restaurant that serves
The LIN-burger
-- "A Chinese five spice pork burger topped with pickled carrot, cucumber and ginger, pineapple salsa and Sriracha mayonnaise, and served with Asiago fries." Yum.