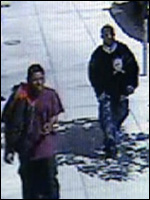 In Oakland, two men have pleaded no contest to voluntary manslaughter in the fatal sucker punch slaying of a 59-year-old man two years ago:
Deals in Oakland attack that killed dad, hurt son
.
Remember this case? Lavonte Drummer and Dominic Davis were
charged with murder
in the April 2010 death of Tian Sheng Yu, who was
randomly assaulted
on the street while he was shopping with this son.
Two years later, reading about the assault is still pretty upsetting:
Prosecutors have said Drummer and Davis were upset about their lives, drinking rum and looking for someone to punch shortly before they attacked the Yus on April 16, 2010. The father and son were on their way to shop for coins at a jewelry store.

Authorities say the men sucker punched the son as the elder Yu was parking his car on Broadway. Tian Sheng Yu approached the two attackers near the Fox Theater on Telegraph Avenue. Speaking in Mandarin, the father demanded an explanation for the attack, and the assailants turned on him, police said.

Drummer told investigators that "he had anger and frustration over his life and planned on hitting someone," police wrote in a statement that outlined grounds for the arrests.
With the plea deal, Drummer and Davis are expected to serve eleven years in prison. That's it. After clearly demonstrating what little regard they had for Tian Sheng Yu's life -- he was nothing more than a punching bag to them -- they get eleven years.
Is this really justice? It doesn't seem like enough. Then again, nothing really seems like enough. More here:
Plea deal in case of Asian father killed on Uptown sidewalk by punch
.