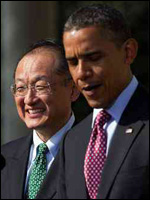 President Obama has nominated global health expert Dr. Jim Yong Kim, the president of Dartmouth College, to be the next president of the World Bank:
Dartmouth President Is Obama's Pick for World Bank
.
Dr. Kim is now the frontrunner to lead the multinational development institution when current president Robert B. Zoellick steps down in June. He's an interesting choice, considering his background is in medicine, not finance or economics.
Dr. Kim, the
first Asian American president
of an Ivy League institution, would be the first physician and first Asian American to head the World Bank. Here's an excerpt from President Obama's remarks this morning:
When we reduce hunger in the world, or help a farmer recover from a flood or a drought, it strengthens the entire world economy. When we put an end to a preventable disease, all of us are safer because of it. When an entrepreneur can start a new business, it creates jobs in their country, but also opens up new markets for our country. And ultimately, when a nation goes from poverty to prosperity, it makes the world stronger and more secure for everybody.

That's why the World Bank is so important. And that's why the leader of the World Bank should have a deep understanding of both the role that development plays in the world, and the importance of creating conditions where assistance is no longer needed.

I believe that nobody is more qualified to carry out that mission than Dr. Jim Kim. It's time for a development professional to lead the world's largest development agency. And that's why today, after a careful and thorough search, I am nominating Dr. Jim Kim to be the next president of the World Bank.

Jim has spent more than two decades working to improve conditions in developing countries around the world. As a physician and an anthropologist, he co-founded Partners in Health, and led a World Health Organization campaign to treat 3 million patients with HIV/AIDS. I have made HIV/AIDS and the fight against that dreaded disease and the promotion of public health a cornerstone of my development agenda, building on some of the outstanding work that was done by President Bush.

We pursue these efforts around the globe because it's the right thing to do, and also because healthy populations enable growth and prosperity. And I'm pleased that Jim brings this particular experience with him to his new job.
The President also noted that after immigrating to the United States from Korea at age five, Dr. Kim went on to become the president of his high school class, the quarterback of the football team, and the point guard of the basketball team. All that, in addition to co-founding Partners in Health and that whole Macarthur "Genius" Fellowship thing. This is an accomplished man.
More
here
. And here's the official White House press release on Dr. Kim's nomination:
President Obama Announces U.S. Nomination of Dr. Jim Yong Kim to Lead World Bank
.