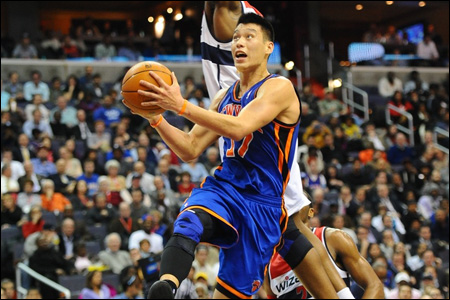 So it was established a while ago that Jeremy Lin would not be playing this summer in London as part of the U.S. Olympic basketball team. That doesn't mean he won't have a role with Team USA:
Jeremy Lin's Olympic Role
.
According to the
official team website
, Jeremy is one of the thirteen players chosen for the 2012 USA Men's Select Team that will train against the National Team during its training camp in Las Vegas, July 6-12:
Lin headlines a group picked by the coaches to scrimmage against the gold medal hopeful first team when camp gets underway in Las Vegas in early July.

Joining Lin will be Ryan Anderson (Orlando Magic / California); DeJuan Blair (San Antonio Spurs / Pittsburgh); DeMarcus Cousins (Sacramento Kings / Kentucky); DeMar DeRozan (Toronto Raptors / USC); Derrick Favors (Utah Jazz / Georgia Tech); Paul George (Indiana Pacers / Fresno State); Taj Gibson (Chicago Bulls / USC); Gordon Hayward (Utah Jazz / Butler); Irving (Cleveland Cavaliers / Duke); Kawhi Leonard (San Antonio Spurs / San Diego State); Jeremy Lin (New York Knicks / Harvard); Klay Thompson (Golden State Warriors / Washington State); and John Wall (Washington Wizards / Kentucky).
But will he get to play? While many believe he'll back with the Knicks next season, as it stands he's currently a restricted free agent, and he might not get the chance to take part until his contract status is sorted out. More here:
Lin on select squad to train against US Olympians
.