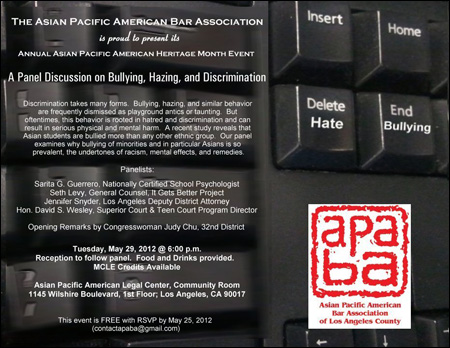 Hey, Los Angeles. On Tuesday, May 29 come to the Asian Pacific American Bar Association presents a panel discussion on
bullying, hazing, and discrimination
affecting our community. Congresswoman Judy Chu will make opening remarks, with panelists ranging from an L.A. Superior Court judge to a school psychologist. More details:
APAHM: Panel Discussion on Bullying, Hazing and Discrimination

Tuesday, May 29, 2012
6:00 PM - 9:00 PM

Asian Pacific American Legal Center
1145 Wilshire Blvd.,
Los Angeles, CA 90017

Nearly one in three American students is bullied, but for Asian
American students, the numbers are even more staggering: more than
half. A report published just last year in the AAPI Nexus revealed that
54% of Asian American teenagers are victims of bullying in the
classroom. These findings were from a 2009 survey conducted by the U.S.
Justice and Education departments that interviewed 6,500 students aged
12 to 18 throughout the nation, who reported to being targets of
taunting, exclusion, and even physical violence.

This is a free event that will begin at 6:00 p.m. Tuesday, May 29, at the Community Room of the Asian Pacific American Legal Center. Food and drinks will be provided. The program will start promptly at 6:30 p.m. and a reception will follow.

As we anticipate a full house, please RSVP at your earliest convenience
and at the latest by May 25, 2012 to contactapaba@gmail.com.
The event is free, but it's suggested you RSVP by e-mailing contactapaba@gmail.com. For more information about the event, go to the APABA website
here
.