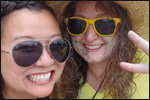 This is a frightening story about two tourists, Kari Bowerman and Cathy Huynh, who were backpacking in Vietnam when they suddenly and mysteriously fell ill and died -- and no one is sure why:
Mysterious tourist deaths in Asia prompt poison probe
.
Both were vomiting, had difficulty breathing, low blood pressure and showed signs of severe dehydration. The scariest part is that their symptoms match a string of mysterious tourist deaths in Southeast Asia. Investigators with the World Health Organization suspect some kind of poison, but it's difficult to be sure.
Almost immediately, international media reports began linking the deaths to an incident in Thailand in June in which two Canadian sisters died.

A hotel maid found Noemi and Audrey Belanger, 25 and 20, in their room on Phi Phi Island more than 12 hours after their deaths. The sisters were covered in vomit, according to CBC News.

In February 2011, New Zealand resident Sarah Carter, 23, died in Chiang Mai, Thailand, after arriving at a local hospital with low blood pressure, difficulty breathing and dehydration from vomiting, according to the New Zealand television network TV3.

In the Downtown Inn where Carter had stayed, the Bangkok Post says three other visitors -- a Thai tour guide and an elderly British couple -- died between January and May 2011.

Other media reports linked Bowerman's and Huynh's deaths to the 2009 deaths of Jill St. Onge and Julie Bergheim, who had similar symptoms in adjacent rooms at the Laleena Guesthouse on the island of Phi Phi. (The hotel has since changed its name).
A dominant theory behind these deaths seems to circle around toxic chemicals found in pesticides -- banned for use in homes and hotels in most countries, but still legal in Thailand and Vietnam. But chemical poisoning is hard to verify, so the questions linger. More here:
Student's death overseas raises questions
.