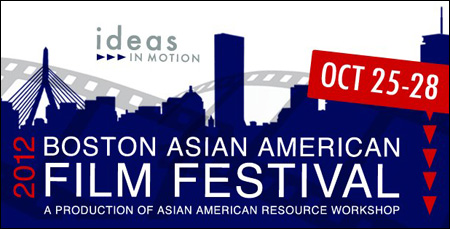 Boston film fans, this one's for you! The fourth annual
Boston Asian American Film Festival
, presented by the Asian American Resource Workshop, is going down this week, October 25-28.
Nine feature-length programs and two short programs of some of the best work in Asian American independent cinema. Things kick off this Thursday with the Opening Night presentation of Quentin Lee's family drama
White Frog
.
Here's a brief overview of the festival programs:
Thurs 10/25

7:30pm OPENING NIGHT: White Frog
Opening performance by Wah Lum Kung Fu & Tai Chi Academy

Fri 10/26

5pm Sunset Stories
7pm Wedding Palace
7pm I Am A Ghost
9:30pm Fear Buffet (Shorts Program)

Sat 10/27

2pm Pui Chan: Kung Fu Pioneer
4pm Model Minority
7pm CENTERPIECE PRESENTATION: Mr. Cao Goes to Washington with short film Real Talk
9pm Yes, We're Open

Sun 10/28

12:30pm ENCORE PRESENTATION: Pui Chan: Kung Fu Pioneer
3pm Reel Food (Shorts Program)
5pm CLOSING NIGHT: Shanghai Calling

"Enemy Alien" Free Screening Tuesday 10/9
BAAFF co-presents Enemy Alien at the Boston Palestine Film Festival

Tuesday, 10/9 at 8pm | Director Konrad Aderer will be present for Q&A
http://www.bostonpalestinefilmfest.org/bpff-event/enemy-alien/

Enemy Alien follows the fight to free Farouk Abdel-Muhti, a Palestinian-born human rights activist detained in a post-9/11 sweep of Muslim immigrants. Through the eyes of the young filmmaker, whose Japanese-American grandparents were interned, Enemy Alien fuels the ongoing public conversation about the human rights of immigrants and refugees in the US. Boston Premiere

Meet Author Henry Chang 10/20

Please join us as the AARW Writers' Group presents Mystery Writer Henry Chang on October 20th, 2-4PM. Find out more about the free event here:
http://www.facebook.com/events/477140305658940/
Screenings are happening at the Bright Family Screening Room at the Paramount Center in Boston; the Brattle Theatre in Cambridge; and the Somerville Theatre in Somerville. For further information about the festival and all the films, visit the BAAFF website
here
.