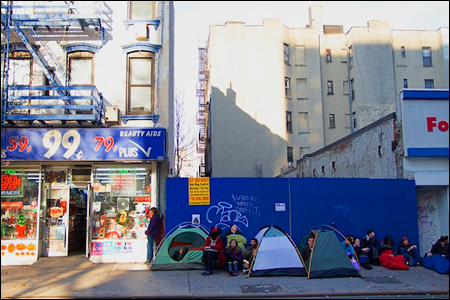 Black Friday. While some suckas were lining up outside Best Buy and Walmart to get their grubby hands on discount goods, the real deals were going down at a dollar store in New York, where people lined up to get themselves a real deal:
Improv Everywhere Brings Black Friday To The Dollar Store
.
The public pranksters behind Improv Everywhere organized a
Black Friday
stunt where a hundred people camped outside a dollar store in Manhattan, complete with tents, mock security and a fake news crew. When the store opened, the crowd rushed in with glee, buying up lots of 99 cent goods.
Looks like it was quite a sight. The whole thing confounded and delighted a lot of folks -- including one very grateful store owner:
Read about how the whole thing went down
here
.