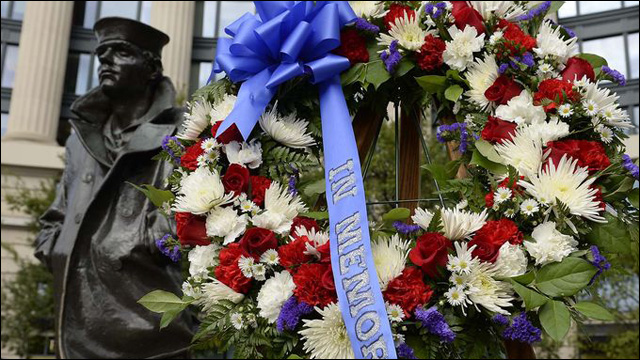 By now, you've heard the awful, tragic news of Monday's mass shooting at the Washington Navy Yard, where a gunman killed twelve people before being shot to death by law enforcement officials. There has been a great deal discussed about the shooter and his motives. This post is about
the victims
.
Rest in peace: Michael Arnold, 59; Martin Bodrog, 54; Arthur Daniels, 51; Sylvia Frasier, 53; Kathleen Gaarde, 62; John Johnson, 73; Mary DeLorenzo Knight, 51; Frank Kohler, 50; Kenneth Proctor, 46; Gerald R. Read, 58; Richard Michael Ridgell, 52; and
Vishnu Pandit, 61
.
Here's some more information on Mr. Pandit, who was fatally shot in the head:
When Vishnu "Kisan" Pandit was in his early 20s, he left India and moved to the United States in search of a better life.

He enrolled at the University of Michigan in 1974, finished his graduate studies and eventually moved to Maryland, where he and his wife raised their two sons.

"Kisan took great pride in being employed by the United States Navy, which he very proudly served in various capacities as a civilian for over 25 years," Pandit's family wrote in an obituary that one of his sons shared with The Washington Post on Tuesday. "Kisan felt extremely privileged to have contributed to the superiority of the U.S. Navy and the country that he served."

Pandit, 61, was one of 12 people killed in the Washington Navy Yard massacre on Monday. His family remembers him as "a kind and gentle man who loved his family, friends, dog, and job."

Pandit was born in November 1951 in Bombay. He attended a marine engineering college in Calcutta, then moved to Michigan "in search of a better life for his family," his family said.

Pandit was married to Anjali Pandit and has two sons, Siddhesh and Kapil, who are both in their 30s. The longtime family home in North Potomac has been filled with relatives and friends this week, according to neighbors.

The family plans to hold a private Hindu service. In lieu of flowers, the family encourages donations to the Wounded Warrior Project, any charitable organization supporting the U.S. Navy or the Humane Society of Montgomery County.

More here:
Vishnu Pandit, Navy Yard Shooting Victim, 'Lived The American Dream'