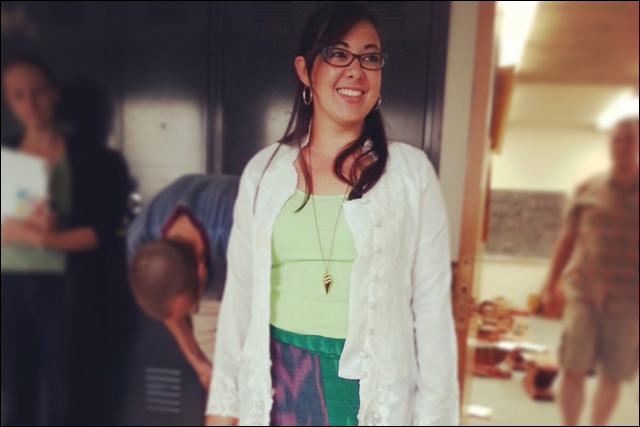 Hey everybody! It is my pleasure to introduce you to the latest
Angry Reader of the Week
, spotlighting you, the very special readers of this website. Over the years, I've been able to connect with a lot of cool folks, and this is a way of showing some appreciation and attention to the people who help make this blog what it is. This week's Angry Reader is Simone Jacobson.
Who are you?
Simone Jacobson, daughter of a Sino-Anglo-Burmese mother from Rangoon and a Jewish European American father from Pittsburgh. Thankfully, my aunt, Wendy Law-Yone, went to the trouble of writing our fascinating family history in her own words after decades' worth of research across numerous continents, so you can read about it
here
!
What are you?
I am an artist, cultural worker, writer, sister, auntie, and what my dear friend Jessica Solomon would call a "
bridge builder
." I'm the person who folks think to contact for everything from "seeking jugglers and tarot readers for a corporate party" to "please teach me how to twerk for an article I'm writing for my school newspaper" (yes, that actually happened to me), or to get Burmese recipes, ask about the pronunciation of French words in art history books, and to tell stories about
how I learned people of color should serve on juries
.
Where are you?
Washington, D.C.
Where are you from?
Phoenix, Arizona where the stars blanket the entire sky and snatch your breath in wonder of simple things, where teaching the histories of brown people is illegal, where I met the two most influential Asian Americans of my lifetime (my Thai American best friend and my Korean American dance teacher-mentor-second father figure), and where they used to say during my standardized tests, "Now everyone check 'Caucasian,' except for two.
You know who you are
." In Arizona, I watched two pregnant girls fight in the high school courtyard and break the principal's leg in the mix. I drove from Phoenix to Los Angeles with Alice Cooper's daughter to audition for a Janet Jackson video, spent my summers in San Diego learning to surf and rollerblade, and got woken from a deep sleep when we stopped at the border from Mexico re-entering the States because with a house-building-for-the-homeless tan and a white, "all-American" family as my ride, the authorities were suspicious about the origins of the pre-teen brown girl in the back. That beautiful land of cacti, unconcealed firearms, magical desert vortexes, mean preppy boys, and Praying Monk Mountain, which I love to visit and hope never to live there again.
What do you do?
I am currently writing a novel about a Burmese American family who witnesses a small girl slip and fall from the side of a Burmese temple in Bagan, and how each person deals with the trauma, loss, guilt, and denial of that incident once back in the U.S. It grapples with the intimate ways we sort out what we think we know, what we want to forget, and the people we involve or exclude in order to survive. It's got a women of color silent meditation retreat, a male midwife, and a phenomenon of hysterical birth that drives the main character's post-trip suffering. I'm scared to death and thrilled about the process of bringing the narrative to life.
I'm also a co-founder of
Sulu DC
, the DC AAPI
LAPP Fest
, and
Phunktions Dance Company
, and sometimes I perform to
interrupt and provoke
common platitudes about the AAPI experience.
What are you all about?
Currently, my three-month old niece! In order of "about-ness": my family, my self-preservation, my art, my community, dancing, reading, and food: the making, eating, and serving of it. One of the greatest moments of my summer involved making
Aung San Suu Kyi's favorite curry
for members of the Burmese parliament in Madison, Wisconsin. I'm
all about
that.
What makes you angry?
Orange is the New Black
as a reminder that the United States is still not ready to hear stories from complicated characters of color unless a white narrative is center stage to "ground us" in an empathetic understanding of the humanity of the people in an "unfamiliar" environment.
Not being able to speak Burmese with my family members.
Spoken word artists who overuse and abuse the word "see" as a transitional phrase.
The assumption that artists and creatives should, can, and will work for free.
Mediocrity in myself and in others.
Let's be excellent
, so our stories can be counted, recounted, and will serve to represent us for the rest of human history!