Asian behaving badly... terrorist trainer edition?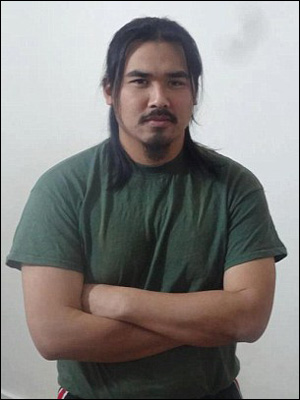 In Orange County, a security guard is accused of plotting to become an Al Qaeda operative and train terrorist fighters for an upcoming attack:
O.C. man was to train Al Qaeda fighters for December attack, feds say
.
According to federal prosecutors, 24-year-old Sinh Vinh Ngo Nguyen, who was arrested this month boarding a bus to Mexico, claimed he was going to Pakistan to train thirty Al Qaeda fighters for a planned attack. He also apparently admitted -- in a Facebook post -- to killing at least one person during a trip to Syria last year.
Nguyen's plan involved flying to Pakistan, faking his own death, applying for a new passport and becoming a jihad fighter. There, using his knowledge of firearms, he would train foot soldiers to execute an ambush against coalition forces.
Whether or not Nguyen actually possessed the skills and resources to pull all this off is another question entirely. He certainly didn't know what was up when he sought the aid of an Al Qaeda recruiter. The guy turned out to be an uncover FBI agent:
Nguyen owned two guns, trained at shooting ranges and had a notebook with detailed instructions on how to train shooters, Heinz said. Nguyen also has a state firearms license typically used by those working as armed guards.

Prosecutors are expected to present evidence from more than 50 hours of audio recordings, video and Facebook posts in which Nguyen allegedly admits to killing at least one person during a five-month trip to Syria late last year, Heinz said.

Nguyen said he went to Lebanon and Syria for the purpose of helping the Free Syrian Army, according to federal documents. A Facebook page with the name Hasan Abu Omar Ghannoum, the same identity Nguyen used on his passport, documented a trip to Lebanon last year and a risky crossing into Syria.

He initially planned on flying to Pakistan, faking his own death and applying for a passport in the country, Heinz said, in order to travel more freely as a Mujahed — jihad fighter.

However, an undercover FBI agent reportedly posing as an Al Qaeda recruiter told him he could apply for a fake passport instead. Nguyen also gave the agent a list of weapons he would need for the training, authorities said.

I sense some serious delusions. Nguyen is charged with attempting to provide material support -- "namely himself" -- to terrorists. He is also accused of lying on a passport application, making false statements about his name, his date of birth, his place of birth and other information.
More here:
FBI: Vietnamese American From Orange County Wanted To Aid al-Qaeda Terrorists