You know them from such hits as "All I Do Is Hustle" and "Hooked On Money."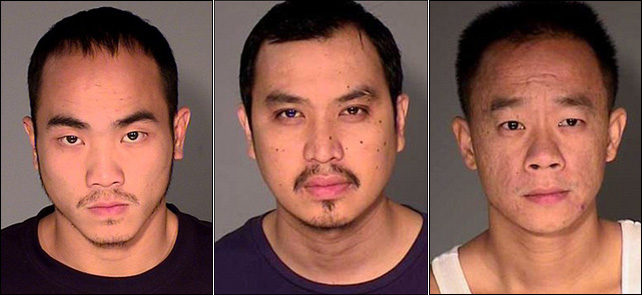 Whaaaaat. Asians behaving badly... rapping robbers edition? In St. Paul, Minnesota three men were arrested for a home invasion robbery after the victim spotted the suspects appearing in rap videos posted on YouTube:
St. Paul man finds home invasion suspects in YouTube rap video
.
According to authorities, the three men were going door-to-door posing as pamphleteers last month when they forced their way into the victim's home and attacked him, threatening his 2-year-old daughter. The suspects eventually made off with $2,000 cash, a laptop, an iPad and two handguns, but thankfully, nobody was hurt.
Here's the crazy part. According to the search warrant affidavit, just a few days after the robbery, the victim was watching YouTube when he came across a rap video featuring his three alleged attackers:
The victim was moved to the basement and one of the suspects untied his hands, but moved his hands from his back to his front and tied them again with phone cords.

The suspects fled the home with $2,000 cash, a laptop, an iPad and two handguns. After they left the house, the victim was able to chew through the phone cords to free himself. He went upstairs, grabbed his daughter and stepped outside to call police. The ordeal lasted about three hours.

On Sept. 27, the victim called police and told investigators he had found the suspects in three different rap videos on YouTube. The victim said he was "100 percent sure" all three suspects were in the videos. He said he watched the videos and "definitely identified" all three suspects.

The amateur rappers/robbers are Theng Thao, 33, Teng Vang, 33, and Chozon Yang Chang, 27, who were each charged with kidnapping, first-degree aggravated robbery and first-degree burglary. And for your information, the incriminating videos they appeared in were "All I Do Is Hustle" and "Hooked On Money," which apparently have since been taken down from YouTube.
More here:
DIY crime-solving: Home invasion victim identifies attackers while watching YouTube rap videos
.