June 20-26 at the Laemmle Pasadena Playhouse 7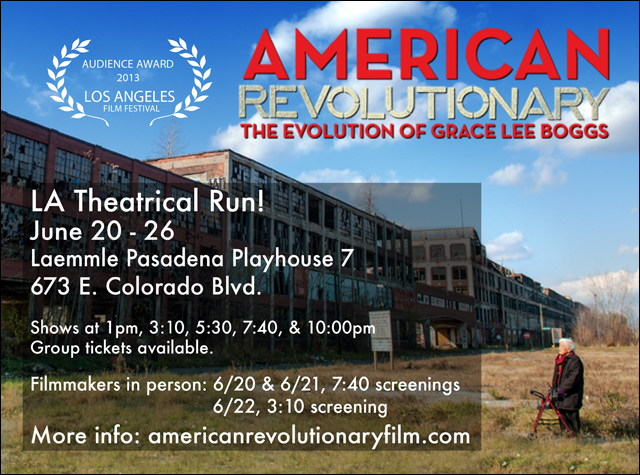 Good people of Los Angeles! Want to see an awesome documentary and help celebrate legendary activist Grace Lee Boggs' 99th birthday?
American Revolutionary: The Evolution of Grace Lee Boggs
, directed by Grace Lee, kicks off a theatrical run this Friday, June 20 at the
Laemmle Pasadena Playhouse 7
.
Twelve years in the making, the film is a moving, inspirational portrait of an incredible American life -- she really does turn 99 at the end of this month -- traversing the major U.S. social movements of the last century. Watch this movie, open your minds, and learn a few things about everything.
Here's the
trailer
again:
Here are some more details about the theatrical run:
AMERICAN REVOLUTIONARY
Los Angeles Theatrical Run

June 20 – 26

Laemmle Pasadena Playhouse 7
673 E Colorado Blvd.
Pasadena CA 91101

Tickets: http://www.laemmle.com/films/38282

American Revolutionary is coming to Los Angeles for a one week theatrical run June 20th - 26th! Showtimes are 1pm, 3:10pm, 5:30pm, 7:40pm, and 10pm daily, with special filmmaker Q&A at the 6/20 + 6/21 7:40 screenings, as well as the 6/22 3:10 matinee screening. Group tickets are available. Tell your friends + family!

What does it mean to be an American revolutionary today? Grace Lee Boggs is a 98-year-old Chinese American woman in Detroit whose vision of revolution will surprise you. A writer, activist, and philosopher rooted for more than 70 years in the African American movement, she has devoted her life to an evolving revolution that encompasses the contradictions of America's past and its potentially radical future.

KCRW's Matt Holzman will be hosting a Q&A and screening at the 7:40pm show on opening night, June 20. Get your tickets
here
. For further information about the film, visit the
American Revolutionary
website
.
For everybody else, be sure to mark your calendars for June 30 when
American Revolutionary
makes its public television premiere on the PBS documentary series
POV
. Check your local listings for dates and times.