19-year-old Isabella Guzman is accused of fatally stabbing her mother over 150 times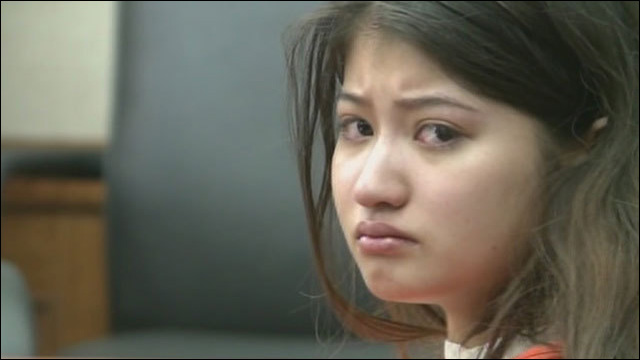 A follow-up on this horrifying case out of Colorado, where a 19-year-old woman, charged with first-degree murder after stabbing her mother over 150 times, has pleaded not guilty by reason of insanity.
Judge accepts Isabella Guzman's insanity plea; accused of stabbing mother 151 times
Isabella Guzman, who was 18 at the time, used a knife to stab her mother Yun-Mi Hoy in the face, neck, arms and torso in the bathroom of their home on August 28, 2013. According to police, 151 individual stab wounds were discovered on Hoy's body. She was also beaten with a baseball bat.
Guzman, who was arrested and charged with murder, was later diagnosed with paranoid schizophrenia. Based on evidence, the district attorney determined that Guzman did not know right from wrong.
Typically there would be another hearing to prove insanity but in this case the prosecution said the evidence is clear the suspect was mentally ill.

A doctor testified in court that Guzman is schizophrenic and had been suffering from some highly disturbing delusions for years.

Those delusions, attorneys believe, drove Guzman to stab her mother more than 150 times last summer.

Her stepfather was home at the time and found his wife lying in the bathroom and Guzman standing over her, holding a knife.

The doctor testified that Guzman didn't believe her mother was in fact her mother but instead a woman named Cecelia who she believed needed to be killed in order to save the world.

Instead of prison, Guzman will be sent to the State Hospital in Pueblo for treatment and will remain there until it is determined she is no longer a threat to the community or herself.
More here:
Teen Accused Of Stabbing Mother To Death Pleads Not Guilty By Reason Of Insanity