Lucy Li tees off, steals the show as the youngest qualifier in U.S. Women's Open history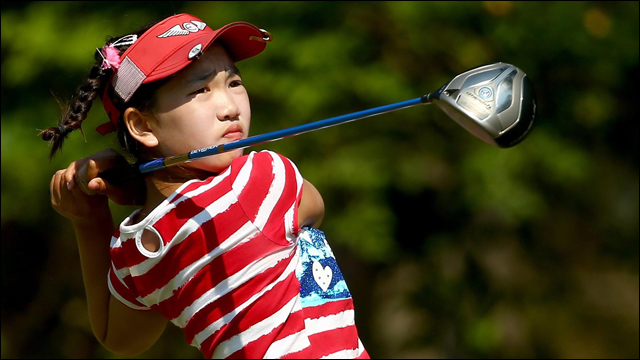 11-year-old golfer Lucy Li made history Thursday by becoming the youngest qualifier ever to play at the U.S. Women's Open. She was, hands down, the star of the tournament. And finished the day with some ice cream.
Lucy Li, 11, Tops a 78 With Ice Cream at the U.S. Women's Open
All eyes were on Lucy, as the sixth grader shot an 8-over 78 in the first round of the tournament at Pinehurst No. 2. Her score left her way behind the leader, two-time major winner and top-ranked Stacy Lewis, but Lucy reportedly played with poise, pigtails and all. She played like a pro.
And a lot of people were watching:
The sixth-grader from the Bay Area was the star attraction, right down to her Stars & Stripes outfit to celebrate the occasion. She wore a mid-drift shirt patterned after the American flag, with a similar motif for a skirt, complete with silver stars that matched the color of her braces.

Li wound up 11 shots behind leader Stacy Lewis, the No. 1 player in the world who opened with a 67. But one moment was telling.

The kid made a 7-foot birdie putt on the par-5 fifth hole and headed to the next tee, her braided pigtails swinging with each step. The media and a large gallery followed her right past the adjacent green, where hardly anyone noticed Lewis making her way around Pinehurst with no bogeys.

Kick some ass Lucy! Excited to see where her bright future takes her. But first, ice cream.
More here:
Lucy Li, 11, has 78 at Women's Open