Claims her first major championship with a two-shot victory over Stacy Lewis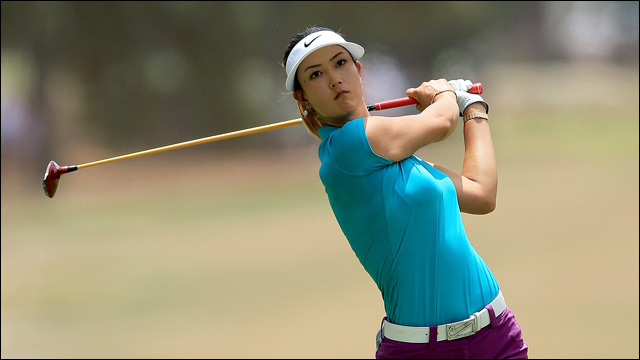 That's what I'm talking about. Over the weekend, Michelle Wie won the 2014 U.S. Women's Open. The 24-year-old from Hawaii finished with a two-shot victory over Stacy Lewis to claim her first major title.
Michelle Wie wins U.S. Open
It was a long time coming. Wie first made the cut at the 2003 U.S. Women's Open when she was 13 years old, amidst everyone trumpeting the young phenom as Golf's Next Big Thing. It's been a bit of a rocky road since then, but on Sunday at Pinehurst No. 2, Wie made good on that hype.
Here's the official trophy selfie:
#LPGAWinnerSelfie with @TheMichelleWie @usopengolf #USWomensOpen pic.twitter.com/huYRXsV94e

— LPGA (@LPGA) June 22, 2014
That's the smile of a champ -- a champ who rose to the challenge.
The final three holes at Pinehurst No. 2 were filled with ups and downs that Wie knows as well as anyone in golf. She responded with a performance worthy of the hype that had been heaped on her since she was a teenager.

With a three-shot lead on the 16th hole, Wie nearly threw it all away with one poor decision, only keeping the lead by making a nervy 5-foot putt for double bogey. And right when it looked as though this would end badly, the 24-year-old from Hawaii responded with the putt of her life that made her a Women's Open champion.

Facing a 25-foot birdie putt on 17 that was fast and dangerous, Wie pumped her fist when it fell, then pounded her fist twice to celebrate the moment.

"That kind of emotion, that kind of pressure ... I'll think of that putt as one of the best putts I've ever hit in my life," she said.

Let's see that trophy again:
All buckled in!!!!! #safetyfirst @Kia pic.twitter.com/H8rLRaKJ5H

— Michelle Wie (@themichellewie) June 22, 2014
Sweet, sweet victory.
More here:
With a Resolve Years in the Making, Wie Wins the U.S. Women's Open for Her First Major Title