Musicians invited to take part in massive world premiere of "100+ BPM," Saturday, June 21 in Brooklyn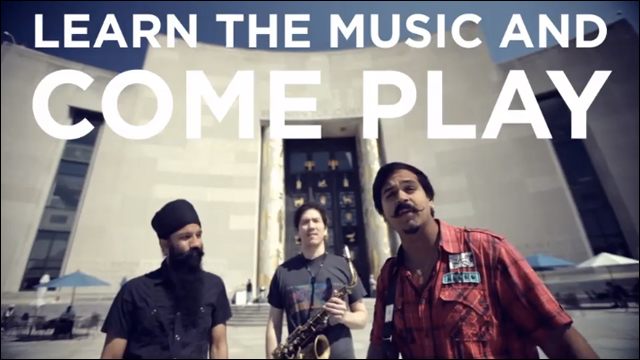 Musicians of New York City! You are invited to take part in a big-ass jam this Saturday, right out on the steps of the Brooklyn Public Library. For this year's edition of
Make Music New York
, NPR commissioned Sunny Jain, founder of
Red Baraat
, to write a new song that would kick off the season in massive, marching-band style.
The result: "100+ BPM." And they need you to help turn it up. They're inviting all wind, brass and percussionists -- individuals and ensembles, amateur, student or professional -- to join in the world-premiere performance. It's happening Saturday, June 21 at the Brooklyn Public Library.
NPR Music Wants You To Play In A Massive World Premiere
You'll be joined by the full lineup of Red Baraat, the drumlines of the New York Giants, New York Knicks and New York Jets, as well as members of the Asphalt Orchestra, M.A.K.U. Soundsystem, Maracatu New York and several local marching bands. It sounds like it's going to be pretty epic.
Here's your video invitation:
To participate, be sure to
RSVP
, and download the
PDF score of "100+ BPM"
to start practicing.
More here:
Come Make Some Noise With Us In Brooklyn On June 21st!