MIT's Lincoln Laboratory honors teen scientist Michael Shao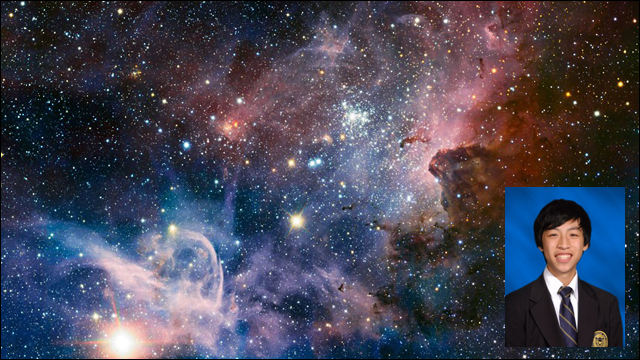 People of planet Earth! You can now look up into night skies (probably through a super high-powered telescope) and see the planet named for a really smart teenage scientist named Michael Shao.
Planet named after Detroit Country Day School student
The Massachusetts Institute of Technology's Lincoln Laboratory has named a minor planet after Michael Shao, a junior at Detroit Country Day School in Michigan, in recognition of his achievements at the 2013 Intel International Science and Engineering Fair, the world's largest high school science research competition.
Shao's project, winner in the Animal Sciences category, analyzed a worm's simple nervous system:
In last year's Intel Science and Engineering Fair Awards, Shao received a Best of Category for animal science and a first place award for his project, titled "Toward Understanding the Neural Circuitry Regulating Cold Sensitivity in C. elegans." Shao's project, which analyzed a worm's simple nervous system, was selected from those of 1,600 young scientists competing in the program from more than 70 countries, making him one of the top student scientists in the world.

Each year, the Lincoln Near Earth Asteroid Research (LINEAR) program, honors a select group of outstanding students and teachers with a minor planet named after them, in an effort to promote science education in 5th through 12th grades. Fewer than 15,000 people have received this honor.
Okay, so it's a minor planet. But how many people can boast that they've got a planet, major or minor, named after them? Not me. I suck at science. Welcome to Planet Shao.
More here:
Massachusetts Institute of Technology Names Minor Planet After Detroit Country Day School Student