29-year-old Young Choi is accused of fatally stabbing his neighbor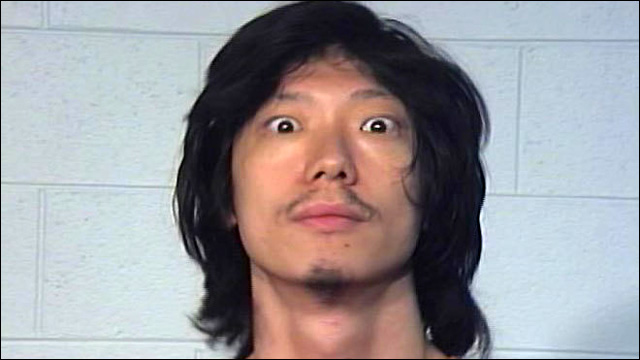 What the... Some disturbing news out of Wisconsin, where police say a man stabbed his neighbor to death and injured another man with a long sword. Yes, that is a photo of the suspect, above. I've got nothing.
Watertown police make arrest in sword stabbing death
29-year-old Young Choi was charged with first-degree intentional homicide in the death of Dustin Vanderheyden, his neighbor at the boarding house in Watertown where they both lived.
According to the criminal complaint, police were called after Choi was seen with a sword attacking Vanderheyden, who later died in surgery. When a witness yelled at him to stop, Choi turned around and swung the sword at him, cutting him in the hand. After a brief standoff, Choi eventually surrendered to police.
During the attack, Gerard, also a tenant above the tavern, heard Choi yelling but didn't go upstairs to investigate until he heard Vanderheyden cry for help, Gerard said in an interview. He saw Choi standing over Vanderheyden holding a small, decorative sword, but it was painted black and Gerard initially thought the weapon was a stick or rod.

"I reached for his hand to try to stop him but he jerked it and he cut me," Gerard said. "I was just in shock because I didn't realize it was a blade."

With the distraction, Vanderheyden, who had been stabbed multiple times, was able to crawl inside his apartment. Choi backed into his own room. Gerard returned to his apartment, where he called police.

When officers arrived, Choi was at the top of a stairwell leading to the second floor and refused to surrender. The Watertown Police Entry Team was called to the scene, as was a department negotiator, who was able to get Choi to cooperate and surrender.

Neighbor Paul Groll said as Vanderheyden was brought out of the building on a gurney, he reached up and took the hand of a woman, telling her that he would be OK.

After his arrest, Choi told police the universe wanted him to kill Vanderheyden, according to court records.

According to court documents, leading up to the attack, Choi had allegedly told Vanderheyden's wife that he wanted to be with her, and that he would "get a sword and stab him." Witnesses also say Choi had been making strange statements "about being God and that everyone was evil."
Meanwhile, the rest of us are going to be haunted by that look in his eyes for a very long time.
More here:
Man in sword attack told victim's wife he planned to kill