Asian woman verbally abused with racist and sexual slurs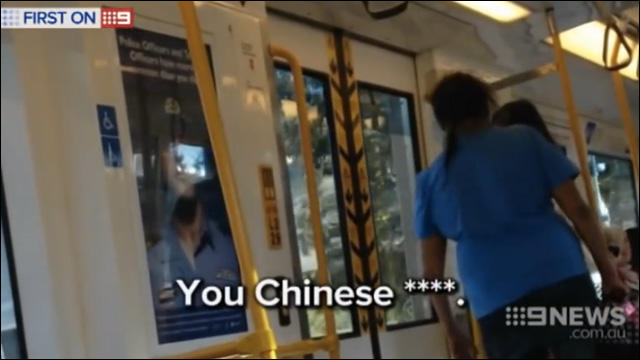 I don't know what it is about Australia and racist shit happening on public transportation, but here's another recent incident caught on video, in which an Asian woman is verbally abused with racist and sexual slurs.
Vicious racist attack caught on camera
The incident happened last week on a train in Perth, where an Asian woman was taunted by another woman who got in her face and verbally assaulted her with a tirade of slurs for apparently no reason at all.
According to the witness who recorded the
video
, the victim was just standing there and "did nothing wrong."
"At one stage she got really close to (the victim's) face screaming obscenities at her," he said.

"You see it on TV but I've never really seen it live before, so everybody on the train was pretty much stunned."

Robert said the attacker was asleep on a row of chairs, but woke up as the train neared McIver station.

He said the victim did nothing wrong.

"The Asian lady just stood by the door, didn't say anything and just basically took all that abuse from the other lady for no reason at all."

The Public Transport Authority has not yet received a complaint from the victim about this incident.
I know this is not representative of everyday train rides in Australia. But damn. I'm starting to put together a list: Australia's Top 5 Racist Public Transportation Rants Caught On Video.
This one from last month
, of course, is at the top of the list. Downright classic.