The Phonesavanh family faces over $1 million in medical bills for little "Bou Bou."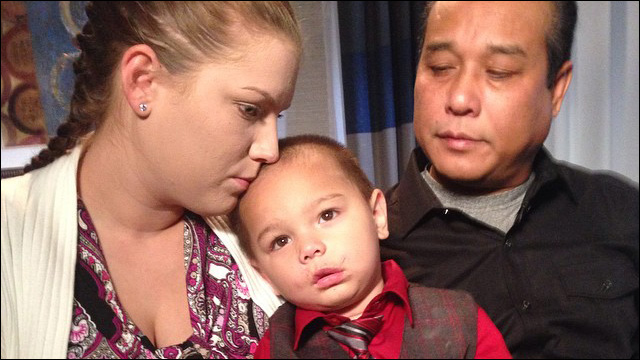 Remember the baby in Georgia who was
severely injured
when a SWAT team threw a "flash bang" grenade in his crib during a botched drug raid? The child suffered serious burns to his face and chest, and his family has been left with over $1 million in medical bills that the county has refused to pay.
Family of Toddler Injured by SWAT 'Grenade' Faces $1M in Medical Bills
18-month-old Bounkham "Bou Bou" Phonesavanh and his family were sleeping at their relatives' house, visiting from Wisconsin, when a police team burst into the home and tossed a grenade that landed and exploded in the crib. They were acting on an informant's tip that he had purchased drugs at the house earlier in the day.
They were wrong.
Bou Bou was in a coma for more than five weeks. He suffered severe burns and a collapsed lung from the grenade blast, and has since undergone multiple surgeries to repair his face and torso. The Phonesavanh is now close to $1 million in debt from hospital costs -- with absolutely no help from the county.
Since the incident, the toddler has undergone surgeries to repair his face and torso. The Phonesavanh family says they are facing close to $1 million in debt from hospital costs. Habersham County officials will not pay the medical bills, citing a "gratuity" law in Georgia that prohibits them from compensating the family.

But the Phonesavanh's attorney, Mawuli Davis, believes the SWAT team's actions during and after the raid make it accountable.

"The child was taken into their custody," says Davis. "Taken from his family, as a result of an injury that was caused by the [sheriff's department]. It would be our position that they should have to pay, and it is far from a gratuity."

Under the state's law, the county government has sovereign immunity from negligence claims against it, and thus the payment would be an illegal "gratuity" to the family.

As the holidays approach, the Phonesavanh family is mired in debt with medical bills they have no hope of paying. "Before this we didn't owe anybody anything," says Alecia Phonesavanh. "And now after all this, they have completely financially crippled us."

On top of all that, the grand jury
did not bring up criminal charges
against anyone involved in the case.
The drug task force was working on bad information, blasted the hell out of this house with a "no-knock" search warrant, nearly killed a child and left him disfigured, and now his family -- who had been staying there because their home in Wisconsin was destroyed by a fire -- is left in massive debt from the hospital bills?
Fuck you, Habersham County.
To help out and make a donation to the Phonesavanh family, go here:
Justice for Baby Bou Bou