Watch the behind-the-scenes documentary webseries 'Trek to Broadway'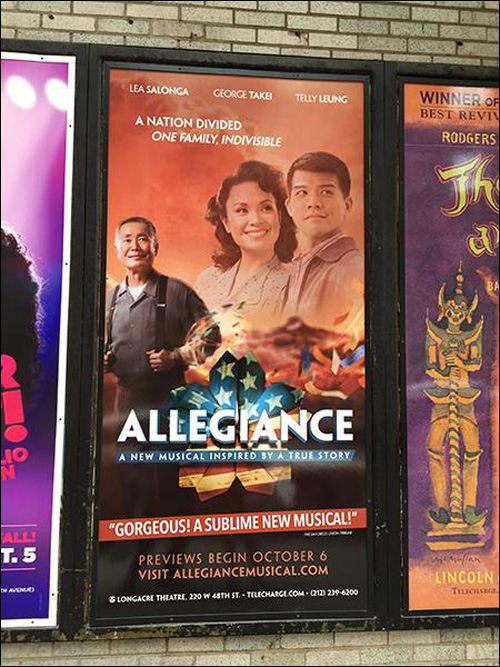 The new musical
Allegiance
opens on Broadway next month. Inspired by the true-life experiences of star George Takei, who spent his childhood in an internment camp during World War II,
Allegiance
is an epic multigenerational story of family, love and patriotism. Also starring Lea Salonga and Telly Leung, it will be the first time that an Asian-led cast has been on Broadway since the 2002 revival of
Flower Drum Song
.
Here's the TV spot that's been playing for
Allegiance
:
In
Allegiance
, a mysterious envelope leads Sam Kimura back 60 years to a time when he and his sister Kei strive to save their family from the wrongful imprisonment of Japanese Americans during World War II. Sam enlists in the army to prove the Kimuras' loyalty, but Kei joins draft resisters fighting for the rights of their people. Their paths take them from the lush farmlands of California to the wastelands of Wyoming to the battlefields of Europe, and their divided loyalties threaten to tear them apart forever. But as long-lost memories are unlocked, Sam finds that it is never too late to forgive and to recognize the redemptive power of love.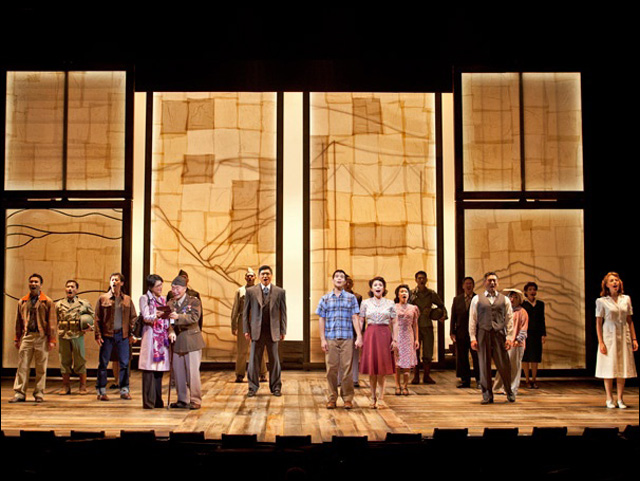 Allegiance
stars George Takei as Sam Kimura/Ojii San; Lea Salonga as Kei Kimura; and Telly Leung as Sammy Kimura. The cast also includes Katie Rose Clarke as Hannah Campbell, Michael K. Lee as Frankie Suzuki, Christopheren Nomura as Tatsuo Kimura and Greg Watanabe as Mike Masaoka.
Uncle George has been chronicling the process of bringing
Allegiance
to Broadway in his behind-the-scenes documentary webseries
Allegiance: Trek to Broadway
. Here are the episodes so far:
Episode One: God I Hope I Get It
Episode Two: All We Need Is The Girl
Episode Three: Art Isn't Easy
Episode Four: The Point of No Return
Previews for Allegiance begin at the Longacre Theater on October 6. Tickets are available now.



ADVERTISEMENT