03.31.06

I totally missed this... This week, our favorite contestant Gina got eliminated from America's Next Top Model. All I can say is, it's about time. I know I was hard on her, but by the end it was just kind of pitiful. I'm going to try and track down the episode, to see how it all went down (sounds pretty disastrous). Here's an interview with the now-eliminated Gina: Interview with Gina, the fourth girl to be eliminated from America's Next Top Model Cycle 6


03.31.06

Sad story... this Hmong family in Fresno lost three members who were killed in a mobile home fire: Shedding light on sorrow. To me, they look like a perfect candidate family for Extreme Makeover: Home Edition.


03.31.06

Just heard about this new book, How Opal Mehta Got Kissed, Got Wild and Got a Life by Kaavya Viswanathan: Charming 'Opal' shows smart can be funny. Viswanathan, a sophomore at Harvard, signed a two-book, $500,000 contract from Little, Brown. And her book has been optioned by DreamWorks. Not bad for a seventeen-year-old first-time author.


03.31.06

Asian American Democrats from around the country are gathering in San Jose this weekend for a first-of-its-kind conference to increase influence at the voting booth: S.J. hosts Asian-Americans


UPDATE: Democratic leader calls for action


03.30.06

Man, there are some crazy ass people out there. Just came across this insane rant on Craigslist: The Chinese Have Taken Over (mountain view). I honestly don't know what to make of it. It's just this strange, ignorant, pointless rant that just goes on and on. Feel free to kick something after you read it.


EDIT: The original posting has been removed by the craigslist community. But the same post can be found on the New York craigslist site: The Chinese Have Taken Over (mountain view). Though probably not for long...


03.30.06

The Nisei Student Relocation Commemorative Fund is offering scholarships for Southeast Asian American students from areas in Louisiana, Mississippi, or Alabama who have been affected by Huricane Katrina. For more information, download an application. The deadline is April 7.


03.30.06

Jeff Yang's latest "Asian Pop" column delves into Asian American mixed race identity and Kip Fulbeck's new photo book project, Part Asian, 100% Hapa: The Pursuit of Hapa-ness. The article includes a few good quotes from the good people at Mixed Media Watch, who actually aren't quite enthusiastic about Fulbeck's book. It's a pretty good discussion, so check out the article.


03.30.06

George Takei guest stars on NBC's Will & Grace tonight. Sulu!


03.30.06

Check out the play Trial By Water, by Qui Nguyen, presented by Ma-Yi Theater Company, running through April 9 in New York. It's a story of of two Vietnamese teenage brothers who are forced to escape their homeland in the middle of the night. There's a review of the show here.


03.30.06

Hey dude! Indians are Asian too! I've actually had conversations (arguments) with folks over this point, and heard from people objecting to coverage of South Asian topics on this site. Here's a humorous site that tries to get to the bottom of this, with some highly unscientific, tongue-in-cheek evidence: Indians Are Asian.


03.30.06

The debate on immigration reform is currently all the rage, especially down in Southern California, where an estimated 500,000 protesters gathered together last Saturday in downtown Los Angeles. So a lot of Asian Americans are wondering—where do we fit into the debate? Should we care? I've received some criticism on this, from folks who argue that this isn't a relevant Asian American issue, and criminalization is necessary... well, I say hell no. And others agree: Chinese Voices Heard at San Francisco Hunger Strike / Debate Dominates Headlines in Chinese Media / Korean Americans: Crackdown Could Hurt Linked Communities / Vietnamese Media Call to Action - Join the Immigrant Rights Movement. Yes, absolutely, this is relevant to our community. This is a historical issue. More than a few people see the connection between the current proposed measures in Congress and past racist exclusion acts against Asian immigration: Asians see discrimination in US immigration reforms. Keep watch on this, because it does matter...


03.30.06

Congratulations to the winners of the Breaking News DVD giveaway contest. Thank you to everyone who participated. The three lucky winnters, chosen at random:


Shane B. of Cambridge, MN

Christopher W. of Woodland Hills, CA

Angela T. of San Francisco, CA

They'll be getting a shiny new DVD copy of Johnnie To's Breaking News, courtesy of Palm Pictures.


03.30.06

This one's for you, Chicago. FAAIM presents the 11th Annual Chicago Asian American Showcase 2006, which kicks off on Friday, March 31 with Eric Byler's Americanese, and runs through April 13. This is a great year for Asian American cinema, and this is your chance to check out all the new good stuff on the scene. Tickets are selling fast, so get yours while you can.


03.30.06

Hey, Asian people in Vancouver! They're looking for extras for the upcoming Jet Li/Jason Statham movie Rogue. Specifically, lots of Asian people for a Japanese night club scene. Details here: Who Wants To Be On Screen WIth Jet and Jason? I don't know much more about this film. But dude, the last time Jet Li and Jason Statham were in a movie together, it was a disastrous low point in Jet Li's career... The One. Ooga booga.


03.30.06

Desipina and Company presents the fourth season of Seven.11 Convenience Theater, exploring the funny and poignant aspects of immigrant life in America through seven 11-minute plays, all set in a 7-11 convenience store. The production runs March 30th through April 16th at the Kraine Theatre in New York. It looks pretty cool, with plays by Rehana Mirza, Samrat Chakrabarti and Sanjiv Jhaveri, Celena Cipriaso, J.P. Chan, Elizabeth Emmons, Vishakan Jeyakumar, and Jackson Loo. For more information, go here.


03.30.06

Been seeing this funny Dairy Queen commercial featuring an Asian American couple: "Dreams" - Dream Pie BlizzardÆ Treats. The actors look sort of familiar. Anybody recognize them?


UPDATE: I'm told that the actors are Shireen Nomura and Ryun Yu.


03.30.06

Some info on another Lucy Liu movie in the works, Beautiful Asian Brides: Liu's Asian Brides Picks Up Heat. I checked my archives, and noticed that this project blipped my radar way back in April 2002. I'll say what I said back then—this sounds baaaad. As if the title wasn't enough to send you running... Apparently, it's a comedy about "a man wrongly accused of murder who goes undercover as a mail-order bride in an attempt to prove his innocence." Oh, hell no. It's just begging for the same old racist fun. Just makes you want shake someone. Oh, Lucy... you never let us down.


03.30.06

Here's the music video for Wayne Hsu's "The Rooster Song". That's lounge-core music, baby. Learn more about Wayne here.


03.29.06

I know I've mentioned Crossing East several times before. It's an eight-hour documentary program on Asian American history, to be broadcast on public radio starting in May. But here's the thing... the program is being carried in every major U.S. city except for Los Angeles, which has one of the largest Asian American populations in the country. What's up with that? Now, I think it would be a shame if KPCC or KCRW—two great Southern California radio stations—missed out on this valuable, groundbreaking program. If you agree with me, consider writing either station with your suggestion... contact info here and here.


03.29.06

Someone pointed out to me that 22-year-old Korean singer Mink currently holds the number 2 spot on the Billboard Hot Dance Play chart, with her single "Glory of Life" (right behind a mix of Coldplay's "Talk"). Here's an article on her: She Ain't Pink, She's Mink, a New Pop Sensation


03.29.06

This is a really inspiring story of Clara Breed, a children's librarian in San Diego, who sent letters and care packages to Japanese American children incarcerated in internment camps during World War II: A picture of 'Miss Breed,' a snapshot of war hysteria. Her story is told in a recent book for young readers, Dear Miss Breed: True Stories of the Japanese American Incarceration During World War II and a Librarian Who Made a Difference by Joanne Oppenheim.


03.28.06

Rush Limbaugh just can't seem to shut his fat mouth, this time turning his guns on pro golf teen Michelle Wie: McNabb Redux: Limbaugh Trashes Golf Prodigy Michelle Wie


In other golf news, here's an article on language barriers facing Korean golfers in the LPGA: Korean players lost in translation on LPGA


03.28.06

Apple's got the trailer up for Chen Kaige's The Promise, which has gotten blasted for being a flat-out, overblown, kitchen-sink disaster. I've heard some pretty bad reviews. It got some minor attention earlier this year for being acquired for U.S. distribution then unceremoniously dumped by the Weinsteins. It has since then been acquired by Warner Independent. The colorful craziness hits American theaters May 5th.


Meanwhile, in China, an online video parody of The Promise has made its creator a cult cyber-hero—and the target of China's censors: China's Clash of Cultures in Cyberspace


03.28.06

Jet Li is being sued by relative of a Chinese kung fu master who say the actor's new film, Fearless (reportedly Li's last wushu movie) dishonors and misrepresents the life of Huo Yuanjia: Jet Li Sued Over His New Movie. This may or may not be a valid suit, I don't know. What I do know is that I can't wait to see this movie...


03.28.06

Forgot to remind everybody that ImaginAsian's new series Comedy Zen premiered last week. It's a showcase of Asian American standup comics, filmed live at the David Henry Hwang Theater in Los Angeles. If you missed it, don't worry—they're repeating the episodes. Set your Tivos. Check the schedule here.


03.28.06

It started here, with Italian Prime Minister Silvio Berlusconi, during his re-election campaign: Berlusconi says Maoist communists boiled babies. Of course, this did not sit well with Chinese authorities: Berlusconi's Chinese Baby-Boiling Comment Sours Diplomatic Ties. Let the war of words begin...


03.28.06

Hey Chicago... Students at the University of Illinois at Chicago are having a Speak-Out for an Asian American studies program (they currently don't have one). Wednesday, March 29 at 11:00am, in the QUAD at UIUC (802 S Morgan St, Chicago, IL 60607). More info here. Make the administration stand up and pay attention. Show your support for this very important cause!


03.28.06

Saemsori is a national campaign that aims to reunite Americans with their relatives in North Korea: Building a Bridge. Here's the organizations' official website: www.saemsori.org


03.28.06

Got word about free screenings of Take the Lead starring Antonio Banderas, about high school kids and ballroom dancing. I mention this because Dante Basco is in movie, and judging from trailers, it looks like he has a fairly big role (I'm pretty sure that's him on the poster). Anyway, here's info on the free screenings, happening all over on Tuesday, April 4.


03.28.06

When Vinod Kumar first came to the United States from India in the 1980s, Americans would ask him if he ate monkey brains. Unfortunately, I think a lot of Indian kids got tormented this way, all because of frickin' Indiana Jones and the Temple of Doom. Here's an article about Kumar's attempt to reach out, disspell misconceptions, and teach about his culture and religion, with his documentary, Deypika's Wedding: Filmmaker finds purpose in teaching about Hindu culture and religion


03.28.06

NPR had a story over the weekend on the latest craze all over Asia—yes, another story on the so-called 'Korean Wave': South Korean Culture Wave Spreads Across Asia. Korea is so hot right now.


03.28.06

Sounds like they're all a bunch of Zhang Ziyi haters in Hong Kong: Hong Kong Media Bashes Actress Zhang Ziyi. Okay, so she ain't all that. But daaaamn. They're really vicious.


03.28.06

Morgan Spurlock, the guy who almost killed himself eating McDonald's food for a month in the documentary Super Size Me, recently spoke at a Pennsylvania high school's first-ever Health and Wellness Fair: "Super Size Me" maker Morgan Spurlock riles teachers, delights kids at U.S. high school:





In his hourlong presentation before 700 students, Spurlock joked about the intelligence of McDonald's employees, using an Indian accent as he imitated a cashier trying to figure out how to ring up a Quarter Pounder hamburger. He also joked about "retarded kids in the back wearing helmets" and teachers smoking pot in the balcony.

Wow, racism and making fun of the mentally disabled, all in the name of hating on McDonald's. Think the kids learned anything about health and wellness?


UPDATE: And he says he's sorry: Morgan Spurlock Apologizes for Comments


03.27.06

Last chance to win free stuff! I'll be accepting entries for the Breaking News DVD giveaway contest up until tonight, 11:59 pm PST. Just follow the directions.


UPDATE: The contest is now closed. Winners will be announced shortly.


03.27.06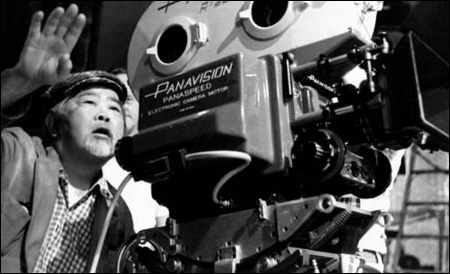 Turner Classic Movies is doing a special tribute to legendary Hollywood cinematographer James Wong Howe, showing his work every Tuesday throughout the month of April. Pretty cool...


03.27.06

James Bai's film Puzzlehead is currently playing a one-week run at the Two Boots Pioneer Theater in New York. Don't know much about it, though I thought I saw "Hitchcockian," "android," and "Frankenstein fable" mixed somewhere in the description, so that sounds kind of cool. Here's the New York Times review: James Bai's 'Puzzlehead' Depicts a Love Triangle With a Twist


03.27.06

So I just read this article about the launch of a new Boston publication for Asians, Asian Boston: A magazine about Asians, from an unlikely publisher. The thing is, it's published by a white dude... who has one of those peculiar loves for all things Asian (right down to his Vietnamese girlfriend):





"I just think they're a beautiful people, and I respect their culture," he says. "It's everything about them -- their food, traditional dress, their arts and entertainment. I feel I connect to them in a way that's hard to describe. I hope they appreciate me for appreciating them."

Ya'll know what I mean? Oh, yes you do. Looks like we have all the telltale symptoms of an Asiaphile, in the worst way. And man, this magazine sounds like a disaster. Somebody in Boston, track a copy down for me, please! I have to see this for myself.


03.27.06

The new F/X show Thief premieres this week, on March 28th (not to be confused with the NBC show Heist). Will Yun Lee is in the cast as Vincent Chan, "a Chinese assassin sent after Nick and his crew after they unknowingly steal money from the Chinese mob. The diagnosis of a degenerative disease will separate him from the world of violence - the only world that he's known." Yay, no crime show is really complete without the Chinese mafia angle. But his character does sound like it could be pretty interesting. As always, we'll have to see...


Over on the WB, Lindsay Price is on the new show Pepper Dennis (starring Rebecca Romijn). She plays Kimmy Kim (who named this character???), "Pepper's no-nonsense co-worker and confidante." The show premiereson April 4.


03.26.06

The documentary Mardi Gras: Made In China, takes a look at the who-what-and-where behind the beads that make Mardi Gras so festive: 'Mardi Gras: Made in China' Traces the Origins of a Festival's Beads. Surprise, surprise—they're manufactured in a cruddy Chinese sweatshop... not that partygoers could give a damn ("Don't know, don't care — they're beads for boobs, man"). Sounds pretty interesting...


03.26.06

This story is the account of a 54-year-old Asian American woman's encounters with the D.C. Fire and Emergency Medical Services Department, who pretty much sound like the worst people to have around during an emergency: Monica Yin's First Responders


03.26.06

The New York Times has a book review for America at the Crossroads, by Francis Fukuyama, a former neoconservative shining star who has decided to resign from the neoconservative movement: 'America at the Crossroads,' by Francis Fukuyama: Neo No More


03.26.06

The Dodgers traded South Korean slugger Hee Seop Choi to the Boston Red Sox: Red Sox claim first baseman off waivers


03.25.06

Just a reminder, I'm still accepting entries for the Breaking News DVD giveaway contest. Just email me your name and mailing address (as in real, physical, postal mail). And be sure to write "BREAKING NEWS" in the subject line. Three winners will be drawn at random. Very easy, no? The contest closes at the end of Monday, March 27th. Free stuff is good!


03.25.06

NPR has an interesting profile on the closing of Imperial Dynasty, a family-owned restaurant that has been in business for 123 years: In Rural California, an Imperial Dynasty Ends


03.25.06

This is crazy to me... but cool. Ryan Woo, a senior at Miramonte High School in Orinda, CA is participating in a program where his second semester of English is spent working on playwriting/directing project. Thus, he wrote a satirical play on Asian race relations called Angry Asian Man, which he's directing and starring in. He says the title is an homage to this website. Why, I'm flattered, Ryan. The play runs April 27th and 28th at Miramonte High School. Details here.


03.25.06

Hey, Grace Lee fans... Filmmaker Grace Lee will appear on ABC's Good Morning America, this Monday, March 27th to talk about The Grace Lee Project, which opens in Los Angeles on Friday. Check your local listings, set your Tivos.


03.24.06

Last night at the Closing Night festivities for the 24th San Francisco International Asian American Film Festival, they announced the winners of the Festival's awards:





Best Narrative Feature Award - PUNCHING AT THE SUN, directed by Tanuj Chopra



Special Jury Award for Best Narrative Feature - COLMA, directed by Richard Wong



Best Documentary Feature Award - ABDUCTION, directed by Chris Sheridan and Patty Kim



Special Jury Award for Best Documentary Feature - CHINESE RESTAURANTS: Latin Passions, directed by Cheuk Kwan



Audience Award for Best Narrative Feature (tie) - WATER, directed by Deepa Mehta



Audience Award for Best Narrative Feature (tie) - JOURNEY FROM THE FALL, directed by Ham Tran



Audience Award for Best Documentary Feature - SENTENCED HOME, directed by David Grabias and Nicole Newnham

Lots of good stuff for everyone to keep an eye out for...


03.24.06

I was unaware of this American Girls doll line—historical dolls representing different eras in American history—but apparently it's pretty popular... and devoid of any Asian American faces: Not quite a rainbow. Asian American parents and activists have launched a campaign to pressure the American Girl company into producing a historical doll that showcases America's Asian history.


Speaking of toys... Check out the Asian Pacific American Toy Chest, an interesting site that's been around for a while (I think I last mentioned it on this site about 4 years ago). It documents all sorts of APA-themed toys—for better or for worse. Take a look and poke around, because there's some cool stuff.


03.24.06

If you're in New York, here's a cool party going on next week... Stream Out Loud, celebrating the launch of ImaginAsian Radio. Thursday, March 30 at LQ's. For more info, and to RSVP, go here. By the way, I've been listening to ImaginAsian Radio (streaming 24/7!) and it's pretty good stuff. Check it out at imaginasianradio.com.


03.24.06

More Hollywood directors looking to work with Bollywood actors... I already mentioned that Brett Ratner is courting Aishwarya Rai for Rush Hour 3 (ugh). Irvin Kershner, director of The Empire Strikes Back, is scouting for actors in India where he will shoot large parts of his next film: Hollywood director turns to Bollywood for next film. India is so hot right now.


03.24.06

As I mentioned the other day, Inside Man opens in theaters today. There's a couple of Asian peoples with bit roles... but it's also worth noting that the movie's cinematographer is Matthew Libatique, who is Filipino American. Looking at his credits, he's done some really incredible work.


03.24.06

As I've mentioned before, there's a huge debate underway in this country over immigration reform... the Bay Area Immigrant Rights Coalition has started a hunger strike in San Francisco to protest Senator Arlen Spector's proposed anti-immigrant bill currently pending in Congress: HUNGER STRIKE AND WEEK OF ACTIONS TO STOP ANTI-IMMIGRANT BILLS!. The bill designates all undocumented immigrants as aggravated felons, allows for the indefinite detention of non-citizens, and criminalizes day-labor centers, churches, health clinics and all others who serve, help or work with undocumented immigrants. To learn more about immigratoin reform, courtesy of the ACLU, go here: Read More About How Immigration ìReformî Bills Undermine American Values


03.23.06

Lucy Liu talks a little about the Charlie Chan movie that's been in the works forever: Lucy Liu Talks Charlie Chan. I've always had mixed feelings about this project. On one hand, it's frickin' Charlie Chan, a painful reminder of Hollywood's ugly tradition of yellowface. Is there really a need to revisit this bumbling, fortune-cookie-wisdom detective caricature? Let us put it to rest. On the other hand, part of me thinks it might be interesting to reclaim and deconstruct this character, with an updated, positive spin on the Asian detective—with a real Asian actor in the role, not some dude with his eyes taped back. It might make for an interesting movie or TV series. However, I've never really been too keen on Lucy Liu in this role. I mean, the old Charlie Chan movies played a huge, unfortunate part in creating skewed representations of Asian masculinity in American cinema. This could be a really cool way of undoing some of those stereotypes. I think it would be really refreshing to see an Asian American man seriously throwing stereotypes upside down with this role. Cool, right? But that's just me. No one's really throwing money my way to make these decisions...


03.23.06

Tonight's Closing Night of the San Francisco International Asian American Film Festival, with a screening of Ham Tran's Vietnam War drama Journey From The Fall. It's the first major American film to dramatize the traumatic aftermath of the Vietnam War from a Vietnamese perspective... and it's getting some great reviews.


Tomorrow, the San Jose leg of the festival kicks off with a screening of Tanuj Chopra's Punching at the Sun. South Bay represent!


03.23.06

So check this out... a St. Louis radio station fired Dave Lenihan, a talk show host, after he accidentally let slip a racial slur in reference to Secretary of State Condoleeza Rice: Host, praising Rice, utters slur; fired He apologized on the air immediately for what he said was a slip of the tongue, but was fired anyway. According to this article, Lenihan had been heaping praise on Rice, who has frequently said she aspires to run the NFL one day but has more recently ruled out seeking to replace retiring Commissioner Paul Tagliabue:





"She's been chancellor of Stanford. She's got the patent resume of somebody that has serious skill. She loves football. She's African-American, which would kind of be a big coon. A big coon. Oh my God. I am totally, totally, totally, totally, totally sorry for that."

Apparently, he meant to say "coup." That's one hell of a slip, man.


Now, let me get this straight. This was obviously an accidental, though unfortunate (perhaps subconscious?), slip of the tongue about a prominent African American figure. This guy makes this big on-air gaffe, and apologizes immediately, but nevertheless gets swiftly fired from the station within a matter of hours, his actions proclaimed "unacceptable, reprehensible and unforgivable." Okay. But Adam Carolla, juvenile jackass radio personality, does this lengthy, pre-recorded, racist "Ching Chong" skit—on the air in several major radio markets across the country—and CBS radio doesn't do a damn thing. Eventualy, weeks later, Carolla gives a half-assed on-air apology, but probably only because he was compelled to do so by management. What's wrong with this picture?


03.23.06

Yet another article on transracial adoption: Adopted in China, Seeking Identity in America. This seems to be a really popular topic in the news this month.


03.23.06

Call For Entries... The Vancouver Asian Film Festival invites submissions for its 10th anniversary festival, which runs November 1-5, 2006. VAFF is apparently Canada's oldest festival dedicated to exhibiting work by North American filmmakers of Asian heritage. For moer info, go here. Early deadline is April 30th; final deadline is May 31st. Get to work!


03.23.06

Aline Nakashima is one of Sports Illustrated's 2006 Swimsuit models. Sure, she looks good in a swimsuit, but what's she all about? Well, according to her bio, she's half-Brazilian and half-Japanese:





"I have the whole Brazilian thing down—I like to party—but I have an Asian side, so I sometimes like being quiet and having time of my own."

Oh, I see. I didn't know that being quiet and having alone time was inherently an Asian thing. Know your roots, I guess.



03.23.06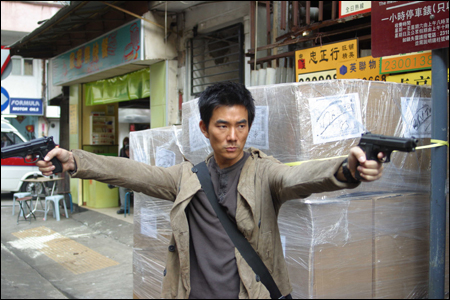 Another DVD contest for you... Hong Kong auteur Johnnie To's crime drama Breaking News was recently released on DVD here in the U.S. The movie's about cops and robbers and TV news and stuff. Well, the good people at Palm Pictures have supplied me with a couple of copies to give away to you, the good readers of this website. To enter, it's simple... Just shoot me at email with your name and mailing address, and "BREAKING NEWS" clearly written in the subject line. Entries that do not follow these simple instructions will be discarded, because people who can't follow simple instructions are fools. I'll accept entries until the end of Monday, March 27th. Then I'll throw all the names in a hat, and pick a few winners. Easy, right? Good luck.


03.23.06

Almost forgot... KASCON, the annual Korean American Students Conference, celebrates its 20-year anniversary this weekend. The conference kicks off today, and runs through the 26th, at Princeton University. They've got a great schedule of speakers, including a number of individual who have recently been in the news—Jun Choi, Sam Yoon, Miss Info, and more. Looks pretty exciting. Congratulations on twenty years, KASCON. And shout outs to everyone who's participating.


03.23.06

Here's a funny clip of John Cho's appearance with Bobby Lee on last week's MADtv: 24 with Bobby Lee and John Cho. Though, I really didn't care for seeing that much of Bobby in his underwear. Is this really the plight of the Asian actor?


03.23.06

If you're in Los Angeles next week... AZN TV is having a private screening and reception for its new animated show, Cooleyville. Tuesday, March 28, at the David Henry Hwang Theater in Little Tokyo. If you're interested in attending, go here for more information. I've actually seen a few episodes, and to be honest, I wasn't all that impressed. I mean, it's a nice try, but there's just too much that falls flat, and in the end it's just not funny. But you have to at least appreciate what they're trying to do. The show premieres on AZN on April 12.


03.23.06

An article on Jeff Hironaka, men's basketball coach at Seattle Pacific University—and apparently the only Asian-American men's basketball coach at a four-year college in the United States: Standard-bearer not his ambition


03.23.06

From AsianWeek, here's a nice piece looking at the life and career of late journalist Sam Chu Lin: Giving Voice to Asian Pacific America, Sam Chu Lin, 1939-2006


03.23.06

From The Harvard Crimson... yet another article on the topic of interracial relationships: Color Line Cuts Through the Heart


03.22.06

Heads up, poetry people... mark your calendars for the Projekt Newspeak's second annual NewSpeak Slam!, a badass Asian American spoken word competition. Saturday, April 22nd at the Aratani/Japan America Theatre in Los Angeles. It's about supporting Asian American art and performance, dig? For more info, visit www.projektnewspeak.com.


03.22.06

Tammy Duckworth has won her bid to run for Congress as a Democrat in Illinois' Sixth District: Iraq war veteran wins Congress primary race. More here: Tammy Duckworth: The Winning Narrative. She'll face Republican Peter Roskam in November as a long shot...


UPDATE: And more on Tammy Duckworth's win here: Iraq War Veteran Wins Congressional Primary


03.22.06

Hyphen is looking for a few good men... have you got what it takes? This May, Hyphen will be celebrating their favorite men of the Asian American community—activists, organizers, teachers, leaders, and beneficiaries of Asian American nonprofits and causes—with the first ever Mr. Hyphen contest. The event takes place May 19th, at the Oakland Asian Cultural Center. For details on how to enter, go here. It could be you!


03.22.06

Little by little, U.S. audiences are getting turned on to the video crack that is Korean soap operas: Korean soaps clean up with US viewers. Pretty interesting article. That's right, see what Asia's already crazy about... and join the hallyu bandwagon. Like I said, it's like video crack—you cannot resist.


03.22.06

18 Mighty Mountain Warriors, "the world's most psychotic Asian American comedy troup," have been selected to compete at the 2006 International Sketch Comedy Championship in Los Angeles. They'll be representin' for the Asian folks against a bunch of other groups, so come on out and show that Asian Americans are a force in comedy. Saturday, April 1 2006. Details here. Also, see a video clip of 18MMW doing a little something funny: Memoirs of a Chinese Geisha.


03.22.06

Asia Pacific Arts has a pretty good interview (including video) with David Liang, the guy behind the Shanghai Restoration Project: Shangri-La: Restoring Hope for Asian-American Music. And hey, he's not wearing sunglasses in the video. I knew he had eyes.



03.22.06

Word is, Brett Ratner is trying to recruit Aishwarya Rai ("the most beautiful woman in the world") for Rush Hour 3: First They Came For Aishwarya... Well, of course he is. My advice to her, for what it's worth: DON'T DO IT. Run. Get the hell out of there. This is going to be a disaster.


03.22.06

More good stuff at SFIAAFF... tonight, Picture Bride—a special tribute to Kayo Hatta, who died tragically last summer. Tamlyn Tomita will be in attendance at the screening (she's in four films at the festival!). And if you ever get a chance to watch Hatta's short film Fishbowl, check it out. It's pretty darn wonderful.


03.22.06

USA Today has an article on Lost's Daniel Dae Kim, and his newfound status as an Asian American sex symbol: Kim surfaces as sex symbol on 'Lost'. And hey, that's me quoted in the article! By the way, I believe tonight's episode of Lost, "The Whole Truth," is Jin/Sun-centric. Just so you know.


UPDATE: TVGuide.com has an interview with Daniel, who drops a few hints about what happens in tonight's episode: Is Lost's Jin Going to Be a Dad?


03.22.06

This week, Chi Mui was sworn in as mayor of San Gabriel, CA—the city's first ever Asian American mayor: First Chinese Mayor In San Gabriel Sworn In. According to the city, San Gabriel's population is 50 percent Asian, 30 percent Hispanic and 20 percent white or other.


UPDATE: More on the new mayor: City to swear in first Asian mayor


03.22.06

Another crazy-sounding, little-known film... The New York Times has a brief review for Derek Wan's "berserk little B-movie," Shadow: Dead Riot: Derek Wan's 'Shadow: Dead Riot' Puts Zombies in Women's Prison. Enthusiastically described as "the greatest zombie flick ever set in an experimental women's prison." How can this not be good? Now playing at the The ImaginAsian Theater in New York.


03.22.06

So, I've already mentioned that there's a stage adaptation based on Crouching Tiger, Hidden Dragon in the works... turns out, according to Variety, there's also a new musical based on the life story of Bruce Lee currently in development: B'way's kung-fu kickoff. Yeah! For real! Crazy, but true. David Henry Hwang has been tapped to write it, and David Bowie(!) is apparently in talks to do the music. I don't know what to say, except that it sounds pretty wild.


03.22.06

Hey, students... VASCON2, the National Vietnamese American Student Conference is going down this weekend, March 24-26, in Austin, TX. I am in support of such conferences, and the students who attend them. It's about empowerment! Looks like they've got a pretty solid program of workshops and speakers, so sign yourself up.


03.22.06

AlterNet has a pretty good article on The Grace Lee Project. As I mentioned before, the film will be screening at the Laemmle's Fairfax Theater in Los Angeles, March 31 through April 6. One week only!


03.22.06

I've been hearing about some weird scene in the movie Ultraviolet where Milla Jovovich attempts to speak what is supposed to be Vietnamese. Apparently, she mangles it pretty thoroughly. Though, I guess the scene is meant to be impressive, because she is supposed to be fluent in this dangerous, exotic language. Also, there is apparently general asskickery, with white woman Milla beating up lots of Asian men. Well, hooray for her. If anyone can track down a video clip of this, I'd be grateful.


03.22.06

Found on the wondrous YouTube... a Korean commercial featuring Gwyneth Paltrow giving Daniel Henney the eye: Daniel Henney & Gweneth Paltrow CF. Henney's insanely popular in Korea, but lately I've been hearing a lot about him 'round here. For those interested, there's a crapload of Daniel Henney on YouTube.


03.22.06

Looks like Ang lee's Brokeback Mountain is getting a quick release on DVD to capitalize on its (non-win) Oscar buzz: "Brokeback" DVD ride set for April 4. What I'm wondering, will there be an audio commentary from Ang Lee?


03.22.06

Here's an interesting editorial on Hoi Trinh, a lawyer who has worked tirelessly to find countries willing to take in the last 2,500 refugees left scattered from the Vietnam War: Vietnam War's last refugees


03.21.06

Thank you to everyone who participated in last week's Year of the Yao contest. We have some winners... Congratulations to these five lucky individuals, drawn at random:


Jun Z. of Pittsburgh, PA

John H. of Monterey Park, CA

Johnny C. of West Hollywood, CA

David T. of San Jose, CA

Brian J. of New York, NY


They scored themselves a copy of Year of the Yao on DVD.


03.21.06

Tonight at SFIAAFF, it's the festival's tribute to the late Pat Morita, with a screening of the awesomely awesome The Karate Kid, Part II. Everybody digs the first one, but Part II has always been a guilty pleasure of mine. And it really is Pat Morita's show as Mr. Miyagi back in Okinawa... to settle the score with Sato. To top it off, Tamlyn Tomita(!) will be in attendance at the screening. Do you need any more reason to go? Bring your little hand drums to bust out for the final scene.


03.21.06

Nemo has just released their final song, "MOFA 7," available for download on their MySpace page. The song is a dedication to the ongoing humanitarian crisis in North
Korea. Learn more about it here.


03.21.06

An interview with Vietnamese American actress Maggie Q, who is a superstar in Asia: Exclusive: M:i:III's Mysterious Maggie Q!. I saw her at the Asian Excellence Awards—she's gorgeous. But the funny thing was, she was just walking through the party, relatively unknown and unnoticed. In Hong Kong, it probably would've been a mob scene. She stars this summer in Mission: Impossible III.


03.21.06

The trial of Stephen Williamson is scheduled to begin today. He's the University of Michigan student accused of urinating off an apartment balcony on two Asian students in a racially-motivated incident last September. While looking around for details, I came across this article in the Michigan Review (a student-run conservative/libertarian paper), which basically argues that the facts surrounding this case do not support the claims made by the victims: Truth Still Matters. While whether or not there was actually urine involved in this incident is under question, I think the incident still points to a general environment of hostility and intimdation that often exists towards Asians on college campuses. The Asian American community should continue to press for awareness and dialogue surrounding this issue.


03.21.06

Eddy Zheng's final deportation hearing will take place on Wednesday, March 22 and 1pm in San Francisco, 630 Sansome (@ Washington), Courtroom 937. Come out and show your support! To learn more about Eddy's case, go here: Stop the Deportation of Eddy Zheng. And read Eddy's blog here.


03.21.06

I recently heard about Gregory Hatanaka's indie film Mad Cowgirl, described as "a Narrative - Experimental - Art - Comedy - Horror - Tragedy - Kung Fu epic that features multiple languages, a little hardcore porn, a flying guillotine, the old ultraviolence and Walter Koenig as a slimy sex-addicted preacher." It sounds insane. The film makes its Los Angeles Premiere on
Friday, March 24, at the Silverlake Film Festival.


03.21.06

A Chinese American employee of the Seattle Public Library is suing the City of Seattle, claiming it discriminated against her for promotion to a librarian position and employed a double standard in its treatment of her: Librarian applicant suing city. That's racist!


03.21.06

Lucy Liu is in the cast of the crime thriller Lucky Number Slevin. Don't know much about her role, but it doesn't look all that impressive...


03.20.06

They've done it. Team Japan beats Cuba, 10-6, to win the very first World Baseball Classic. While I was rooting for Korea, and Saturday's game was a bit of a heartbreak, I gotta say it was a pretty good tournament. See ya in four.


03.20.06

Really sad story out of New York, about a horrific car crash that claimed several lives. And a grieving father keeps calling her dead daughter's cell phone voice mail to hear her voice: He'll keep message 'for life'


03.20.06

A study currently underway aims to help diagnose the gambling problem in Asian American communities. The study, conducted by the UCLA Gambling Studies Program and Asian Pacific Policy and Planning Council, will survey communities in Los Angeles County, including Alhambra and Monterey Park, in their own languages: Study to target Asian-American gambling


03.20.06

In college hockey news... Over the weekend, Boston University freshman Brandon Yip's overtime goal propelled the Terriers to a 2-1 win over Boston College, giving them their first Hockey East tournament championship since 1997: Yip's goal tips the scales for BU


03.20.06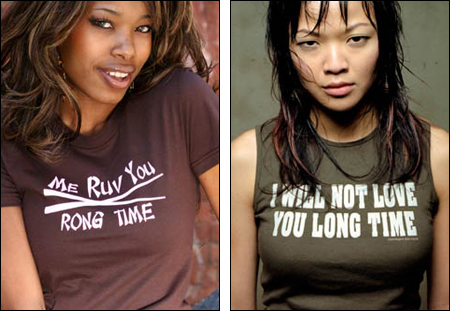 Guess which one is going to kick the other's ass?


This ridiculous t-shirt is so unoriginal, it's almost sad: Me Ruv You Rong Time. That's racist! Of course, such stupidity can only be answered by this badass t-shirt available from Blacklava: I WILL NOT LOVE YOU LONG TIME


03.20.06

Heads up, Los Angeles. The Grace Lee Project will be playing a one week run at the Laemmle Fairfax Theatres, March 31 through April 6. One week only! And if you bring a Grace Lee to the screening, you get two tickets for the price of one (valid ID required). I think I've said quite a bit about this film, but if you need more info, poke around here. Also, be sure to read my Q&A with filmmaker Grace Lee from a few months back here. And spread the word! Download a flyer here, then pass it along.


03.20.06

Vietnamese American Jess Dang is one of eight finalists on The Next Food Network Star. She's competing for a chance to host a Food Network program. Judges will narrow the group down to two, and then viewers will be able to vote for the winner...


In other reality television news, Kristi Yamaguchi is getting her own show, as the host of WE's Skating's Next Star.


03.20.06

Some reviews from weekend screenings at SFIAAFF: Abraham Lim's The Achievers and Todd Angkasuwan's No Sleep Til Shanghai, both reviewed by SFist; Eric Byler's Americanese, reviewed by Cinematical; Punching at the Sun ("The Best South Asian American Film Ever"), reviewed at the Hyphen blog. I've also been hearing of various sightings of Daniel Dae Kim, who was at the festival to participate in the panel Is Charlie Chan Dead? Asian American Men on Stage


03.19.06

Spike Lee's Inside Man opens in theaters this week. Don't know a whole lot about it, but the movie's IMDb entry lists Ken Leung as "Wing" (guy seems to be popping up everywhere lately) and Deborah Teng as "Hostage" (I swear, I think I went to college with her). This review calls Inside Man "the anti-Crash movie," claiming that it "embraces the enormous ethnic and cultural diversity that is New York and, by extension, America." Bold claims! I'm intrigued.


03.19.06

Just saw a commercial that ran during Grey's Anatomy... Monday night(?) on ABC's Nightline, the cast of Grey's Anatomy talks about the "anatomy of race in Hollywood." Don't much more than that. It's what the commercial said. But it could be interesting...


03.19.06

Could the world's first skiers have been Asian? Most people think skiing is all about white Scandinavian dudes. But western experts have recently discovered skiers deep in the Altaic region of northwestern China that use "ancient" skis: Before Scandinavia: These could be the first skiers


03.19.06

The US Department of Justice is conducting an investigation into voting problems in the city of Lowell, MA—the fourth recent probe into alleged voting rights violations in Massachusetts city elections. In Lowell, the Asian American Legal Defense and Education Fund (AALDEF) has reported that Cambodian-American voters (who constitute up to a quarter of city residents) faced difficulties at the polls last fall and has recommended that the city print more election materials in Khmer: Lowell voting problems probed


03.19.06

I believe I've mentioned Congrressional candidate Tammy Duckworth here before... She is a retired Army major and helicopter pilot who lost both legs in a grenade attack in Iraq. And now, her bid for the Democratic nomination in Illinois' Sixth District has made the race of the one of the most closely watched in the country: Illinois Democrats Scramble, Seeing Opportunity in a House Republican's Retirement


03.19.06

Jade Snow Wong, renowned author and ceramicist, died last week in San Francisco. She was 84: Jade Snow Wong -- noted author, ceramicist


03.19.06

Here's an article with a little more info and background on Adult Swim's Minoriteam: Satirical Superheroes for the Rude Set. Still don't know what to make of it... I'm going to try and catch the series premiere.


03.18.06

An update on the case of Jiang Zhenxing, who miscarried twins after immigration officers allegedly ignored her pleas for a doctor... The Justice for Mrs. Jiang Campaign is trying to spread the word about this case, and call attention to the plight of human rights for immigrants. They're urging people to help out and raise their voices in the current debate on immigration reform by signing and sharing this petition at the Asian American Legal Defense and Education Fund website. For those of you who are local to Philadelphia, there's a rally scheduled on March 27. For more information, go here.


03.18.06

An article on Jeanette Lee, the so-called "Black Widow" of billiards: Ready to Rumble. Because of her, any Asian woman who is successful in her respective field is often called the "Black Widow of _____." For instance, Sonya Thomas is called the "Black Widow of Competitive Eating." It's just kind of weird.


03.18.06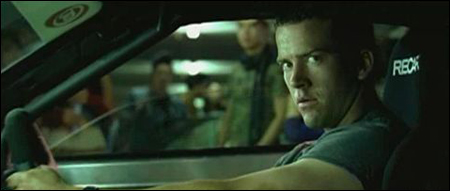 Fastest and furiousest white guy in Tokyo?


Well, look at this, what we've all been eagerly anticipating/dreading... It's the trailer for The Fast and the Furious: Tokyo Drift, directed by Justin Lin. I don't know what to say. It looks like your typical white hero (versus Asian villains) in Asia scenario... but I'm still holding out to see if Lin and Co. can (somehow? maybe? possibly?) put a different, interesting spin on things. I have to admit the trailer makes it look like a pretty solid popcorn ride. Sung Kang appears to play a pretty prominent role in the movie. Also spotted Leo Nam, Jason Tobin and others. Good, lite fun, or twisted Asian exploitation? I guess we'll have to see... The movie opens on June 16th.


03.17.06

Asians on TV! John Cho guest stars tomorrow night on MADtv. With regular cast member Bobby Lee, that's an Asian American comedy double whammy, one night, one show.


03.17.06

Good review of the Memoirs of a Geisha DVD, which hits stores on March 28: Memoirs of a Geisha (2-Disc Special Edition). The review touches upon a lot of the issues people have with this film. That said, perhaps now that it's on DVD, I'll finally get around to watching the damn movie, see what the fuss is all about.


03.17.06

Cheng Ching Pui, aka "Big Sister Ping," apparently one of the world's most prolific human traffickers, was sentenced to 35 years in jail for her crimes, which included the infamous "Golden Venture" tragedy in 1993: Golden Venture big sails off to jail. Here's a profile on her: Cheng Chui Ping: 'Mother of snakeheads'


03.17.06

An interview with Grace Park from Battlestar Galactica: IGN Interviews Grace Park. She is, by the way, quite tall and pretty in person. But she's an evil Cylon! A Cyyylooooooooon!!!


03.17.06

Meet Cung Le, world class fighter, martial artist and three-time world champion. You forgot badass. It happened last week, according to the website:





On Friday March 10th, Cung Le dominated in his MMA debut in front of the largest audience ever to witness an MMA event. With a sold out crowd at the HP Pavilion in San Jose, CA, Cung Le wins by knock out his bout with Mike Altman in 3 minutes 51 seconds of the first round. Altman, who is also a veteran San Shou fighter from Texas, needed to fight off spinning kicks and high round houses. He finally took a spinning back kick against the cage before being finished off by Cung Le's devastating right hand. The fans were definitely there to see a spectacular win, and Cung Le did not disappoint.

His devastating right hand!


03.17.06

Hey, directors and screenwriters. An opportunity for you... Asian CineVision is now accepting submissions for their annual Screenplay Competition and Works-In-Progress Competition. The winners will receive cool, neat things. The deadline for both is April 14. For more information, go here.


03.17.06

Chicago, I love you! Except your winters. An article on Chicago's Chinatown: Chinatownís staying power


03.17.06

The Mercury News has an article on accomplished Hollywood composer Nathan Wang, who has written music for dozens of Hollywood films—most recently, the score for She's the Man: Knowing the score


03.17.06

Here's an interesting article on the ironies and peculiarities of film exhibition in China: The Oscar for Best Banned Picture. Another related article here: China spooked by Hong Kong's films


03.17.06

Had a blast yesterday at Opening Night of SFIAFF. Despite an insane downpour of rain, and the immense lack of convenient parking around the Castro, I made it to the screening of Eric Byler's Americanese in one piece... and had a great time. The film is a rare, complex portrait of Asian American relationships, with some great performances, particularly from star Chris Tashima. Oh yeah, by the way, I'm still madly in love in Joan Chen. And man, isn't it refreshing to see Asian American men doing some on-screen romancing for a change? It actually seems to be an overall current running through the festival... Here's an article on the festival that hit on this theme: Have roles changed for male actors? And Jeff Yang's "Asian Pop" column goes in-depth on Americanese: The Man Show


Some highlights for this weekend... DO NOT MISS the festival's Spotlight on James Shigeta—legendary screen icon, and Hollywood's original Asian American romantic lead. This weekend, they're screening The Crimson Kimono and Bridge to the Sun at the Castro, and Walk Like a Dragon at the Pacific Film Archive. See Mr. Shigeta in person! Also, how often do you get to see these films? I was talking with assistant festival director Taro Goto, and he was telling me how rare the prints were—and they're not available on DVD. Do not miss this rare opportunity!


Tonight, a bunch of programs are sold out, but you can always try your chances with the rush line.


03.16.06

All right, it's here! The 24th San Francisco International Asian American Film Festival kicks off tonight with its Opening Night Gala screening of Eric Byler's Americanese at the Castro Theatre, followed by a reception at the Asian Art Museum. I'll be there to take part in the festivities. Looking forward to finally checking out the film, as well meeting friends from the community, old and new.


Also, be sure to check out other highlights at the festival... three of Friday night's features at the Kabuki are already sold out! By the way, does anyone have an extra ticket for Punching at the Sun, The Achievers, or No Sleep Til Shanghai? (I'm particularly interested in seeing the world premiere of Abraham Lim's The Achievers.) I was slow on buying tickets, so I guess I'll be hanging out in the rush line.


For those checking out the west coast premiere of Tanuj Chopra's drama Punching at the Sun tomorrow night, you might be interested in attending the afterparty at 111 Minna. (The film is also the Opening Night presentation of the festival's San Jose leg.)


More updates on the festival tomorrow. See you there.


03.16.06

Comedian/actor/emcee Randall Park shows up tonight on the NBC sitcom Four Kings. He plays Pat, "a guy who works at a Panda Express-type restaurant who doesn't know when to stop scooping the orange chicken." I don't know what that means, but it sounds pretty awesome, in that not-really-awesome way. Woo. You may remember him from that Old Navy commercial from back around the holiday, where he gives his girlfriend a scarf, and she thinks he's proposing. I got a lot of email about that one...


03.16.06

Another article on Project Runway winner Chloe Dao: For Project Runway's Chloe Dao, a Surprise Ending


03.16.06

Two things. First, I know Chuck Norris has received an odd resurgence of attention lately, with those crazy (but true) Chuck Norris Facts circulating around the internets and all. I mean, it's out of control. Here's a clip of Chuck Norris reading facts about himself. Sure, the man is a badass, but before things get out of hand let me remind you who the real badass is... with this video clip of Bruce Lee beating Chuck's ass (and ripping out his chest hair) in Way of the Dragon: Bruce Lee vs. Chuck Norris


Second, how freaking awesome is YouTube? Where else can you watch a clip of Chuck Norris' short-lived '80s cartoon series Chuck Norris Karate Kommandoes? Chuck, with his team of Kommandoes—including a ninja, a samurai and a sumo wrestler—battled the evil forces of The Claw and Super Ninja. I kid you not, this was an actual show.


03.16.06

Just learned about this documentary in the works, Identifying Asian (a working title), following the stories of four Asian American students. It's still needs a lot of work, and apparently needs funding... but it's a start. Anyway, take a look at the trailer


03.16.06

According to the futon critic, John Cho has joined the cast of the NBC sitcom pilot The Singles Table, about five single people who meet at a wedding and develop bonds. He'll play "Ivan." Cross your fingers.


03.16.06

Jennifer Phang's indie film Half-Life is described as "a suburban apocalyptic drama." It's currently in post-production, and they're putting the call out for some help. Basically, they need some real-life riot footage. Maybe archived news footage of a riot? Preferably public domain (the fewer legal issues the better), but they'll take what they can get. If you've got such footage, or happen to know where they might look, or need more info, contact Stephen at stephenkuo@astound.net.


Speaking of indie productions in need, Grace Lee is looking for some props. In her own words:





As many of you know, I'm shooting a very low-budget DV feature in April and we are looking for the following props/set dressing. If you have anything here that you'd be willing to contribute or lend to the film's art department, please let me know. Anything just lying around in storage? Your garage? Want to do some early spring cleaning? Come to us first!



We're also looking for a couple of good looking picture cars -- especially an older SUV/Jeep Wagoneer type. If you have one, or know of people who might be willing to part with it for a few days, we have a little bit of money for that.'



We're also looking for a couple of locations: a couple of apartments, a Convenience store, a botanica, and a storefront office (preferably in a mini mall or some abandoned business). There is a small budget for these places.



Thanks again for your help!!



Best,

Grace

Email her at grace@gracelee.net if you can hook her production up.


03.15.06

Not so fast on that Johnnie To/Chow Yun Fat Hard Boiled U.S. remake rumor: JOHNNIE TO EXISTS IN STATE OF QUANTUM UNCERTAINTY


03.15.06

Just a reminder... I'm still accepting entries for the Year of the Yao DVD giveaway up until midnight tonight. Just email me with your name and mailing address, with "YEAR OF THE YAO" written in the subject line, and you'll be entered into the drawing for one of five DVDs. So far, I've received a good response, but not a fat truckload, so your chances are still pretty decent. Good luck.


UPDATE: The contest is now closed. Winners will be announced shortly.


03.15.06

Asians on TV! Tonight's the series premiere of The Loop on Fox. Joy Osmanski is in the cast as Darcy. Don't know if it's any good, or better yet, good enough to withstand cancellation (Emily's Reason Why Not didn't make it past one episode!) but it might be worth checking out.


03.15.06

Check this, film fans... Eric Byler's Americanese just won two prizes at the SXSW Film Conference and Festival in Austin, receiving the narrative audience award and a special jury prize for outstanding ensemble cast: Byler's "AMERICANese" Wins Two at SXSW. Byler also won the audience prize at SXSW four years ago for his previous feature, Charlotte Sometimes. Fresh from this win, Americanese screens tomorrow at the Opening Night of the San Francisco International Asian American Film Festival. As if I haven't been pimpin' it enough lately...


Other SXSW winners include Eunee Cho for Inner Circle Line, which won the jury prize for Outstanding Visual Achievement, and producer Scott Mitsui (with co-producers Mark Woollen and Myles Bender) for Jam, which won the jury prize for Outstanding Documentary.


03.15.06

Earlier this month, without much fanfare, Dallas Cowboys linebacker Dat Nguyen announced his retirement, mainly due to injuries. One of the first and few Asian Americans in the NFL, he was one of the Cowboys most valuable defensive players.


03.15.06

The New York Times has an article on the resurgence of historical interest in China about the actions of man many in the country are calling "China's Oskar Schindler": China Hails a Good Nazi and Makes Japan Take Notice. Historians cite two reasons for this sudden interest in an event that took place 70 years ago: to refute Japanese denials and to encourage patriotism among Chinese youth. I smell a movie in the making...


03.15.06

Interesting feature from New York magazine... "When one of New Yorkís most-eligible hard-living, jet-setting, model-dating, turban-wearing bachelors decides (or, more precisely, when his dad decides) the time has come for him to get married, itís bound to be quite a party": Vikramís Big Fat Sikh Wedding. See a slideshow of the wild affair here.


03.15.06

Last summer in Los Angeles, railway workers unearthed the skeletal remains of 108 people at an MTA excavation site... turns out, they were probably early Chinese American workers, and reveal a little something about racial intolerance towards the Chinese during the 19th century: Reminders of Bigotry Unearthed. Really interesting article...


03.15.06

An article on the decline of Toronto's Chinatown: Death of a neighbourhood


03.14.06

At this point, this is just rumor, but a Hong Kong newspaper is reporting that Johnnie To will direct Chow Yun Fat in an American remake of Hard Boiled. For real? Hard Boiled, as in one of the greatest action movies ever made? And Chow Yun Fat, starring again in the same role? I don't know what to say, except that it seems rather pointless, even in the hands of Johnnie To: JOHNNIE TO DIRECTS CHOW YUN-FAT IN HARD BOILED REMAKE


03.14.06

A show I really like is Scrubs, which is not only funny, but has had a number of recurring Asian characters over the years. One of the cool things about the show is that it continually brings back the same background characters from episode to episode, giving them funny things to do... like this season, there's an Asian dude named Rex, one of the lowly interns, played by Aaron Ikeda. I've been enjoying his antics. Stumbled across his "official" site here. It's full of funny insights, plus gratuitous self-promotion and ass-kissing (really, what else are websites for?).


03.14.06

Just saw this promo for Minoriteam, which joins Cartoon Network's "Adult Swim" lineup on March 19 (the pilot premiered back in November). The show revolves around five superheroes, each of which is based on a racial or ethnic stereotype, who join forces to fight against discrimination. The superheroes are:





Non-Stop, a Middle-Eastern convenience-store owner who is immune to all forms of live ammunition.
El Jefe, a Mexican that fights crime with a leaf blower and cannot speak English.
Dr. Wang, an Asian Human Calculator and the leader of the Minoriteam. He also owns and operates a laundromat.
Fasto, an African-American man who is known as "the fastest man that ever was."
Jewcano, a man with the powers of the Jewish Faith and a Volcano.
The five heroes team up to fight a collective of villians that are meant to poke fun at certain stereotypes of Caucasian society:





The White Shadow, leader of the clan of supervillians, with a head/helmet in the shape of the Illuminati Pyramid.
The Head of the Cheerleading Squad, who is always snooty and impossible to please.
The Corporate Ladder, a ladder with a stool at the top who is impossible to scale/climb.
The Standardized Test, a man with an eraser on his head. His stereotype is that standardized tests are biased towards caucasians.
Racist Frankenstein, a monster that shows his anger and hate for other minorities.
What do I think? I have no idea. What do you make of a show where every single character is purposely based on a stereotype? It could be really good or really bad. From what I know here, it actually sounds pretty funny. I'll have to check it out and see.


03.14.06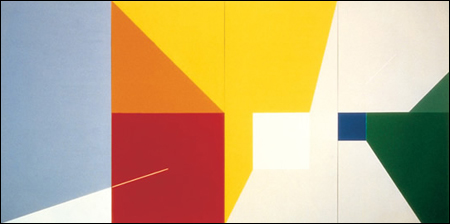 Ooh, pretty colors. Four seasons by Leo Valledor.


Check it, Bay Area art lovers... Here's an interesting exhibition of Asian American artist Leo Valledor going on in San Francisco: Selected Works: Paintings by Leo Valledor (1936-1989). March 14 through April 8 at the Togonon Gallery. And if you aren't going to Opening Night of SFIAAFF, there's an opening reception for the exhibition on Thursday, March 16, 6-8:30pm. Heck, be cool, go to both. For more information, go here. For background on Valledor, read this.


03.14.06

I totally missed this one... last week, Cher (the "beauty") and Josh (the "geek) made it through the final challenge and became the winners of Beauty and the Geek 2. They won themselves a nice slice of $250,000. Yay, I guess. It was a crazy night for Asian women on reality TV—Chloe won, Cher won, and Gina got really really drunk. Whoo.


03.14.06

As we've mentioned before, Gong Li is starring in the upcoming movie Young Hannibal: Behind the Mask, about the young Hannibal Lecter. Everything I've heard up to now has sounded like she plays some sort of dragon lady-type mentor to Hannibal. Yay, from geisha to dragon lady. This feature indicates that she'll get tortured in the movie: Meet 'Young Hannibal'. That's not exactlyencouraging.


03.14.06

Kansas entrepreneur Wayne Wong, 83, has written a new book, American Paper Son, about his experiences as a Chinese American in the United States: Wayne Wong, 83, has lived 'the American dream'. He first came to this country at age 13, as a "paper son" in 1935.


03.14.06

Brooklyn cop Sgt. Chiksum Gong is being called a hero after grabbing the cylinder of a mad gunman's .44-caliber Magnum: With bare hands, hero grabbed gun to save fellow cops


03.14.06

With Jose 'Sway' Penala getting voted off American Idol a few weeks back, and William Hung still insistent upon making more albums, it seems unlikely that we'll be seeing a legitimate Asian American pop star competitively hit the big time anytime soon. At least, not on mainstream terms (dude, what happened to Harlemm Lee? He got screwed). So, media production company Xperimental Entertainment has taken it upon itself to search for the next breakthrough artist with their very first Asian American Superstar Contest. I think mentioned the auditions for this a while back. They've posted video performances online from their Top Ten Finalists, that you can view and vote for. The winner will receive a bunch of prizes, including a demo recording package, a professional photo shoot, and a possible recording contract. Check out the performances and cast your vote here. I've watched all ten, and they're pretty strong (though I have a few favorites). Let's hope this generates some publicity and takes off.


03.14.06

Have you been following the World Baseball Classic? South Korea is currently undefeated, having beaten the United States last night, 7-3: Lee carrying big stick for Korea. There was a party in Koreatown last night. D-H-M-K! Meanwhile, the day before, the U.S. beat Japan, thanks in part to a controversial (= bad) call: Japanese team has beef with umpiring


03.14.06

Margaret Inouye, the wife of Hawaii's senior U.S. Senator Dan Inouye died this week due to complications that resulted from colon cancer. She was 81: Maggie Inouye dies


03.14.06

"The structure will convey a hollow feeling — like their dreams." A group has unveiled plans for the Chinese Workers Museum of America, a $50 million museum in Carson City that would honor 19th century Chinese railroad workers in the West: Museum plan honors Chinese railroad workers


03.14.06

I think most of us are pretty happy that Chloe won Project Runway last week. Some, however, have their gripes... like this article from Salon: Project Bummer


03.14.06

This weekend, AZN Television and NBA Entertainment will premiere a new co-production, NBA Timeout. According to the press release, "The weekly magazine-style show will be hosted by Angela Tsai and will highlight the diversity of the league and its fans. "NBA Timeout" will feature game highlights, player profiles and will go straight to the Asian American community to talk to fans about their passion for basketball." Interesting. Definitely seems like an NBA effort to reach market to the Asian American community. The show premieres on Sunday night. Here's the show's website, which appears to be still under construction.


03.14.06

More racist shoe-related items... Check out these ads for Asics: Onitsuka Tiger (scroll down to "Spring 2006 Ads"). No Chinaman caricatures, but broken Engrish grammar at the bottom of each ad is really lame, along with these exoticized icons of Asia (incense, miso, incense). Pretty stupid way to sell shoes. That's racist!


03.13.06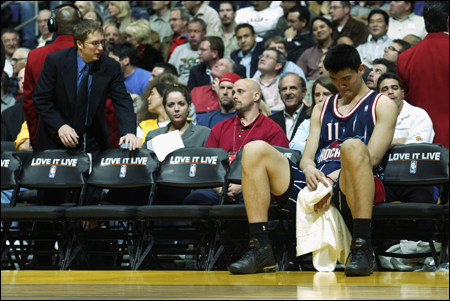 How about a contest? Year of the Yao, last year's documentary on Chinese NBA star Yao Ming, gets released on DVD tomorrow, March 14. I thought it was a pretty interesting film. Well, to celebrate this release, the good people at New Line have provided copies of Year of the Yao DVDs for five of you lucky readers. Interested? (Yay! Free stuff!) Just email me your name and mailing address (postal, as in real physical delivery, so we can send you the prize if you win), with "YEAR OF THE YAO" clearly written in the subject line, by the end of Wednesday, March 15. It's that easy. Then I'll toss all the names in a hat and randomly pick five. Can you dig it? To learn more about Year of the Yao, just go here.


03.13.06

Raj Bhakta, the bowtied former Apprentice contestant, now an aspiring politician, is running for Congress in Pennsylvania's 13th District: Ex-'Apprentice' announces run for Congress


03.13.06

Check out this shoe, Y1 HUF, by Adidas. I believe that's a slant-eyed, buck-toothed, bowl-cut Chinaman caricature on the tongue, and it says "FONG" there on the back. And dude, to top it off... the shoe is part of the Yellow Series. You're kidding me, right? Who the hell is the creative genius that designed this? That's racist! The site provides a handy contact form if you have any questions or comments. Yes, I've got a few.


UPDATE: More on the shoe... it's designed by famed graffiti artist Barry McGee, who is half Asian. The caricature appears to be a sort of signature—kind of like a self portrait, actually. It appears on the cover of this book of his work. But taken out of context, who's going to know that? It's just a chinkface on a shoe.


03.13.06

Another article on Lawson Fusao Inada, Oregon's poet laureate: Inada spreads his joy. He's apparently considered the 'Father of Asian American' literature. I did not know that.


03.13.06

Judge Delbert E. Wong, who was the first Chinese American to be appointed to the bench in the continental United States, died Friday night at Glendale Memorial Hospital. He was 85: Delbert E. Wong, 85; First Chinese American Judge in the Continental U.S.


03.13.06

According to this article, administrators at the University of Massachussetts at Amherst are seeking to eliminate self-segregated living quarters, i.e. designated residence hall floors for groups of minority students: Out of the comfort zone. Interesting, since the situation is self-segregation—the students' own choice to live in these residence halls. I suppose there are both benefits and drawbacks to this arrangement. I say mix it up! College is a crazy time. No better way to figure out who you are than being forced to live with everybody and anybody, then seeing what emerges.


At my school, a lot of the Asian freshmen ended up being "randomly" paired up with other Asian students as roommates (I think Asians made up about 18% of the student population). It happened enough that you know it wasn't just coincidence—they were scheming up these Asian-Asian matches in the school's housing office. I guess they thought it would make the transition to college life a little easier. Funny, because my roommate ended up being a Korean American guy too, but our personalities couldn't have been more different. He was cool though. Great roommate. Shout out to you, Andrew!


03.13.06

This sucks... So this couple in Seattle was forced to sell their business, Caffe Appassionato, because of the Seattle Monorail Project... which ended up not happening. Now they want to buy it back, but have been told that the land must be resold for full market value, through competitive bidding this month—and it's unlikely to them that they'd win: Couple's dream now their worst nightmare


03.12.06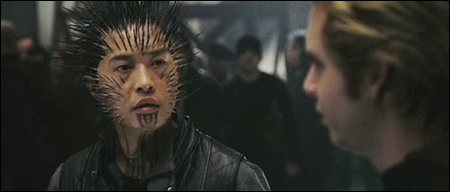 Here's the big trailer for X-Men 3 (aka "The Last Stand"), which hits theaters in May. It looks like it has about 300 hundred characters. The above image is a still from the trailer, of Ken Leung as the mutant, um, "Spike Face." Not really the character's name, but why the heck not? His IMDb entry says his name is "Quills," but that's boring. I dug around a little, and found that he's based on an actual character from the comic books (it's been a while since I picked up an issue of X-Men), who as far as I know, is not Asian. I think I prefer "Spike Face."


03.12.06

The San Francisco Chronicle has a great profile on two of the faces behind the San Francisco International Asian American Film Festival, festival director Chi-hui Yang and assistant director Taro Goto: Asian American Vision Expands. My boys! Nice photo. You've hit the big time. Meet them at the festival, starting this Thursday, March 16. And here are some of the Chronicle's recommendations: Asian American Film Festival Picks, with accompanying podcast.


03.12.06

For those of you in LA, there's an upcoming encore screening of Mora Stephens' Conventioneers, winner of the John Cassavetes Award last week at the 2006 Independent Spirit Awards. Friday, March 17, 7pm at the Los Angeles Korean Cultural Center. Featuring a Q&A with the director and a reception after the screening. Best of all, it's free. Presented by the Los Angeles Korean International Film Festival. For more information, go here.


03.12.06

The very first Asian Elevation is a big ass Asian American talent show, brought to you by the producers of the very successful Kollaboration show. They're holding auditions for singers, dance crews, rappers, spoken word artists, comedians, classical musicians, etc. to compete for the $3,000 grand prize. Saturday, March 25, 12-5pm in Los Angeles' Koreatown. Looks like the start of something big! Details here. I attended the last Kollaboration, and had a blast. Asian Elevation will be held on June 24, in Pasadena. Should be a good time.


03.12.06

Meet 18-year-old Hikaru Nakamura of White Plains, NY, "the boy king of chess," shattering the history books to become America's winningest chess prodigy ever: "I'm not Bobby Fischer". Apparently he's developed something of a reputation as a bad boy (translation: jerk) on the competitive chess circuit. Anyone else see a burnout in the making? Don't let it go to your head, kid.


03.12.06

Another one of these Asian American singer/songwriter dudes... Meet UCLA graduate Benny Mao, who plays acoustic pop-rock stuff, and has a cool name. A Place Unseen is the album. He's got a show later this month at the House of Blues Sunset Strip. See here for more information.


03.11.06

This is kind of cool... Creative Commons, Warner Bros. Records, and Machine Shop Recordings present the Fort Minor Remix Contest. Fort Minor—Linkin Park frontman Mike Shinoda's side project—is offering the separated audio elements of the track "Remember the Name" online under a Creative Commons license, so that interested producers have the opportunity to create remixes of the song. The producer of the winning remix, chosen by Shinoda, will be awarded a new Technics SL-1200MK5 turntable. I imagine a lot of people will submit some pretty crappy remixes, but there are probably also a lot of creative, resourceful producers out there. And hopefully, they'll post the winner's track. Details here.


03.11.06

Hey, check this out: TigerCinema, a Netflix-styled DVD rental service focusing on Asian and Asian American cinema... if you couldn't tell by the photo of the cute Asian couple fighting for the remote on the couch. Looks like the service isn't quite up and running yet—it launches on Wednesday, March 15. Seems like a pretty good idea, especially for folks who live in areas where Asian movies aren't easily accessible. Still, even for someone like myself, my tastes aren't limited to just Asian/Asian American cinema. Don't know if I could limit myself to such a specific service... If anyone signs up, let me know how it goes.


03.11.06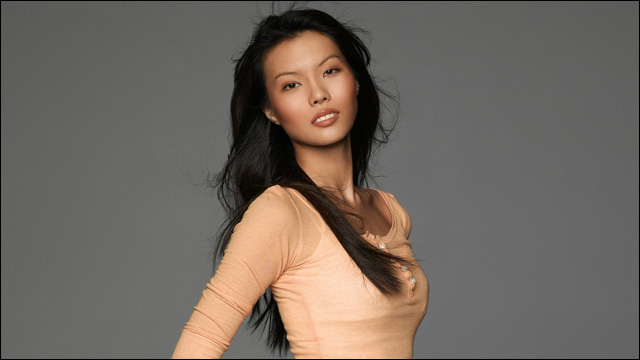 So, in the same night we saw Chloe win Project Runway, they also aired this season's premiere of America's Next Top Model. I got a ton of email from people writing in to tell me about the Asian American contestant, Gina, and all the foolish things she said. Who knew so many people watched this show? It was such an overwhelming response, I had to track down the show and see it for myself. So I did, and it's a doozy.


First of all, this is one heck of an amazing train wreck of a TV show. It's brilliant and painful all at once. But I powered through and watched the whole two-hour premiere. There was much to wince at, but dude... Gina! I was like, what are you doing, woman? It starts out bad, just gets worse and worse. During the initial interview, Tyra asks her why she wants to be America's Next Top Model. She responds:



"I think there's just not enough Asian models out there. I feel that I can break down that barrier, and I think it's my responsibility."

So I'm like, all right! That's cool. She wants to respresent. I can get on board with that. Then Tyra asks, "You say you're not the girl next door. You're wild." This is where things start to head south, real fast.





"If you're going to ask me to get down, strip naked, I will do it. That's just how I am.... But the thing is, my parents kind of have a thing with that, so I mean, I don't know if I'd go against my parents... I'm not sure! [Insert graduation photo of Gina with her parents.] I mean... I kind of believe more in the American culture than my parents. I'm not into Asian guys. The thing is, they're a lot shorter than I am, which is something that I can't tolerate."

I'm like, oh-my-sweet-goodness-stop-talking-now. Meanwhile, Tyra and the judges are giving her looks, shaking their heads, like, what is up with you? Jay's incredulous: "You've come so full circle from your initial statement." And Tyra just plain calls her out: "First you were saying, I'm Asian, I'm strong, I'm Korean. And then you're saying, Screw Korean boys, and I want a white boy." Cut to Gina's sit-down interview, where she looks a little bewildered:





"I don't know what exactly happened, but I got confused and I started contradicting myself, because certain things just started coming out, and it didn't make any sense."

I understand that editing plays a big part in these shows, and people don't always come off looking as articulate or intelligible as they'd prefer. But man, she was like a deer caught in the headlights, and digging herself into a deep, dark hole. These were not thoughtful responses. But somehow she manages to make the cut into the top thirteen. When Tyra calls her name, Gina is ecstatic, and exclaims, "I LOVE ASIAN MEN! I SWEAR TO GOD, I DO NOW! I DO NOW! I DO NOW!" Yeah, big change of heart, now that you've found out you're not going home. But it doesn't stop there. In the first challenge, the contestants have to take part in a press conference, where they have to try and make some sort of first impression... it does not go well for Gina. Janice Dickinson asks her point blank, "Gina, how does being an Asian woman factor into your determination to win this competition?" Our girl's proud, thoughtful response:





"I guess, I don't know... I don't know. I don't know how to answer that question."

They press her a little more: "So Gina, when you met us during casting week, that was the first thing you mentioned. Why in a room with all these reporters, why would you not take this opportunity to put it in the forefront?" (Why, Gina? I would like to know that too!)





"I'm just... I'm 21 years old, and I don't know who I really am yet. I'm kind of like struggling. I'm like having an identity crisis here."

Everybody's like, what the hell? And Gina knows she's screwed up big time, later saying that she didn't feel she represented herself properly. Yeah, I would agree. Her fellow model wannabes confront her, suggesting that she has some insecurities about her race. Gina says it herself:





"As a Korean person and as an American person, I'm just a little bit of both, and I don't know which one I am more of."

Yo, this is a peculiar time and place to be working these issues out. If she's going to go there, like she did when she introduced herself, she needs to go there, and represent. And not crumble and shut down when she's feeling the pressure, like she does here. Well anyway, the model wannabes go out to dinner, and Gina decides to drown her troubles away by getting as drunk as possible. Whoo! Like a good Korean girl. Like I said, the whole thing was like a big ass train wreck—I wanted to cover my eyes, but I couldn't stop watching. I actually felt sorry for Gina, because they sort of put her through the identity wringer. But woman, please, get some spine and represent! By episode's end, she is NOT eliminated, and makes it to the next round. But I don't think I've ever wanted an Asian American reality show contestant eliminated this badly before. Keep an eye on her, because there's likely more drama to come.


03.11.06

More strides for ImaginAsian. The all-Asian American network will be premiering a new stand-up comedy series, Comedy Zen on March 24. The six-part series will showcase three comics in each half hour-long episode, hosted by comedian Joey Guila, and featuring the likes of Bobby Lee, Dat Phan, Steve Byrne, and Dr. Ken. I believe I mentioned the taping of these shows a few months back, at the David Henry Hwang Theatre in Little Tokyo. The show appears to be ImaginAsian's answer to AZN's Asia Street Comedy. Funny thing is, it looks like lot of the comics who appeared ASC are also on this new one. Hey, funny Asian people gotta eat too. Anyway, here's ImaginAsian's press release.


03.11.06

Asian person on TV! Cindy Cheung guest stars on the latest Law & Order: Criminal Intent. The episode, according to the website:





Season 5 Episode 05013

PROUD FLESH 9/8pm 03/12/06



MURDER OF RADIO MAGNATE'S SON POINTS TO PATRON'S FOREIGN-BORN WIFE -- When the scion of a powerful radio magnate Jonas (guest star Malcolm McDowell) is found murdered under bizarre circumstances, Detectives Goren (Vincent D'Onofrio) and Eames (Kathryn Erbe) believe the crime is connected to a power struggle over the family trust as they focus on the patron's Chinese-born wife, Anna (guest star Cindy Cheung). However, the detectives also keep circling around a pair of Megan's friends -- a kinky professor who is her ex-husband and a mysterious businessman, both of whom had their own reasons to kill. Jamey Sheridan and Courtney B. Vance also star. TV-14


Dude, that doesn't sound very good. Note the emphasis on the foreign-born and Chinese-born wife. And frankly, Law & Order has had a track record of some pretty crappy Asian-themed episodes. Keep an eye on this one. It airs on Sunday night.


03.11.06

So this guy, Hemant Mehta, an atheist Indian American graduate student, auctioned his soul on eBay, saying he would attend an hour of church services for every $10 of the winning bid. Jim Henderson, a former evangelical minister, put up the money for the winning bid ($504) and asked Mehta to attend 15 church services—which Henderson would choose. Then Mehta had write about them on Henderson's Christian web site, off-the-map.org. The stunt has gotten a lot of attention, but it has the makings of a very interesting dialogue/debate about faith and religion: Indian in US auctions soul, sparks debate. Here's the Wall Street Journal's article: On eBay, an Atheist Puts His Own Soul On the Auction Block


03.10.06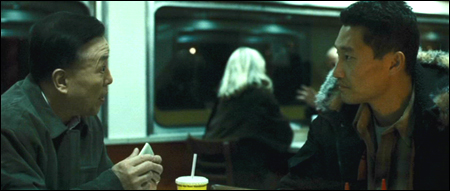 Jin! How'd you get off the island?


More perspectives on Hollywood's new favorite film about race (that a lot of people seem to hate), and the gay cowboy movie (that a lot of people apparently didn't like as much as they claimed)... This one's a letter to Boston Globe movie critics from badass AAM reader Eugenia: Mail's in. And here's a great commentary from the LA Times: The Best Picture Misses the Big Picture. And here's one by William Wong posted on the Hyphen blog: The Problem With Crash. And this one, on AlterNet, thinks Crash "deservedly won the Academy award for best picture because it forces blacks as well as whites to honestly confront their stereotypes": A Crash Course in Racial Perceptions. Excuse me, but this overly simplistic perspective reflects one of the big reasons why I have problems with this movie, as well as with the normal course of discussions about race in this country—this dangerous, irresponsible notion that race is a dialogue only between blacks and whites. Well I say hell no.


03.10.06

This can't be good. The Weinsteins, genius handlers of Asian cinema, are planning to bring a "Cirque du Soleil"-like version of Crouching Tiger, Hidden Dragon to the stage. OH boy. Not only that, they're also developing Chinese author Wang Du Lu's Crane -- Iron Pentalogy, the five books that encompass Tiger, as a film franchise of three prequels and a sequel: Taming 'Tiger' on stage. Given their track record, the Weinsteins getting their hands on anything remotely related to Asian cinema is just a bad idea. Another article here: Crouching Tiger Prequels Coming?


03.10.06

San Francisco Chinatown community leader Allen Leung was murdered last week in his shop: Art dealer fatally shot in Chinatown. Although the circumstances of his death remain a mystery, some Chinatown insiders claim that he was killed for his strong anti-Chinese Communist Party beliefs: San Francisco Chinatown Leader's Death Reveals Complicated Political Situation


03.10.06

Check out this NPR piece, told by Hee-Sook Lee, a Korean immigrant wife/mother, who has a really sweet story: A Cultural Shift: Learning to Say 'I Love You'. It's part of StoryCorps, an oral history project collecting stories around the nation.


03.10.06

Here's an interesting AlterNet article on South Asian political organizing on the web, which samples a bit of what's out there: Desi Power Online. I think it covers concepts that could largely be applied to the broader spectrum of web-based Asian American activism, which we've all seen expand tremendously over the last few years. Let's keep it going!


03.10.06

It's official. Ken Watanabe will star in Clint Eastwood's Red Sun, Black Sand, the Japanese companion piece to his Iwo Jima drama Flags of Our Fathers. He will play real-life Japanese General Tadamichi Kuribayashi. Japanese actors Kazunari Ninomiya, Tsuyoshi Ihara, Ryo Kase and Shido Nakamura will also star in the film, which will be entirely in Japanese: Watanabe is Set for Eastwood's Red Sun. The screenplay is written by Iris Yamashita, from a story by her and Oscar-winner Paul Haggis (writer/director of Crash—argh!), who adapted Flags. It's set to begin production next week in Los Angeles.


03.10.06

Adopting Chinese babies... it's so hot right now: Chinese Adoptions Surge in New York, East Meets Upper West Side


03.10.06

Missed this one when it came out... Victor Vu's Vietnamese American drama First Morning was released on DVD in January from Illuminare Entertainment. It had a moderate indie theatrical run back in the fall, but if you missed it, here's your chance. The DVD is available at Amazon.com.


03.10.06

Ugh. Crooked cops and Asian prostitutes. Two New York police officers are accused of "looking the other way," accepting bribes and discounted services, while a Flushing, Queens brothel took in more than $1`million a year from customers. This week, FBI, the police, the United States Attorney in Brooklyn and Immigration and Customs Enforcement agents announced the arrests of the two officers, Dennis Kim, 29, and Jerry Svoronos, 30; the woman and man accused of running the brothel, Gina Kim, and Geeho Chae, both 37; and 16 young women believed to have worked as prostitute: 2 Policemen Accused of Taking Bribes to Protect Queens Brothel. More here: Cops' brotherly love


03.10.06

Another article on Detroit activits Grace Lee Boggs: Activist Boggs learned from mom's regrets. Looks like there's a benefit screening of The Grace Lee Project in Detroit on March 18. (See the article's sidebar... which for some reason calls the documentary "Do You Know Grace Lee?")


03.10.06

Filipino American filmmaker Christine Pechera has a rare form of Non Hodgkins lymphoma and is in need of a Filipino marrow donor. Her only chance of survival is a marrow transplant from a donor whose marrow matches hers, and so far a worldwide search has not turned up a single match. Maybe you're the match—the one in a million person who could save her life. Visit www.savechristine.com for more details. Here's an article on her, from last month: Hoping for a miracle


03.10.06

Looks like the Ken Oak Band has hit the big time. Sort of. They've landed a song on the soundtrack for She's the Man. Hot. Incidentally, the movie's score is composed by Nathan Wang. Well, all right!


03.09.06

Calling all Asian American families with children—ABC's Supernanny wants you! Got this message forwarded along to me:





ABC's hit show SUPERNANNY is currently looking for Asian-American families with children (infant to teens) to take part in its hit television series featuring Jo Frost, one of the United Kingdom's top nannies.



Using the expert techniques that have made ABC's SUPERNANNY a hit show, (and her book a New York Times bestseller), Jo Frost works with families to help tame even the rowdiest infants, kids and teens, restoring balance to American households. Jo offers hands-on advice to parents on how to achieve the best possible work/family balance, get the best out of kids, (while still letting them be kids), and guide the family unit to a positive place. The series is an intelligent, informative look at childcare and parenting in the 21st century.



What are the parenting challenges particular to Asian-American family life? How are the issues in the APA family exactly like every other family? Supernanny is interested in showing our national audience the ups and down of parenting in families of all ethnic/national backgrounds; we haven't yet had an Asian-American family on our show and we're actively looking!



Interested families should email us at supernanny@ricochettelevision.com , or go to www.ABC.com keyword "supernanny," or call 1-877-NANNY-TIME.


If you've ever seen the show, you know that Supernanny Jo has to deal with some pretty beastly children. It would be kind of interesting to see an Asian American family on the show. So how about it? Hey, Rice Daddies, got naughty kids?


03.09.06

The SXSW 2006 Film Festival kicks off tomorrow, with a couple of noteworthy films in the lineup... including the world premiere of Eric Byler's Americanese and the North American premiere of Eunhee Cho's Inner Circle Line, both part of the Narrative Feature Competition. The festival is also screening Julia Kwan's Eve and the Fire Horse, Yoji Yamada's The Hidden Blade, American Dreamz (with John Cho), and Hard Candy (with Sandra Oh).


You can also catch Americanese next week at Opening Night of the 24th San Francisco International Asian American Film Festival.


03.09.06

Another Asian American musician to check out is Chicago-based electronic composer Jon Monteverde, who produces music as XYZR_KX (pronounced "Scissor Kicks"). His music was recently profiled on NPR's "Open Mic": XYZR_KX: 'LUV'. Check it out.


03.09.06

Spotted some Asian presence on Visa's current ad campaign, "Life Takes..." View the TV spots here. On "Signature: Massage," there's a white dude getting a massage from an Asian woman... who is stepping on his back. Ugh. On the other hand, I like the one called "Determination Burger," where the Asian guy attempts to eat this GIGANTIC hamburger. His facial expressions are pretty funny.


UPDATE: More representation in the MSN tie-in version of this campaign. There's an Asian couple in a photo booth ("Souvenirs"), and Wes Kim shows up as a parent caught in the figurative headlights ("Curiosity").


03.09.06

I recently got turned on to the music of singer/songwriter Jared Rehberg. He's got a really interesting story, and it comes out in his music. I listened to a few samples on his website, and kind of dug it. Check out his stuff here, or get his CD, Waking Up American, online at CDBaby.com.


UPDATE: By the way, Jared's music, along with other Asian American musicians, will be featured on the radio program Crossing East


03.09.06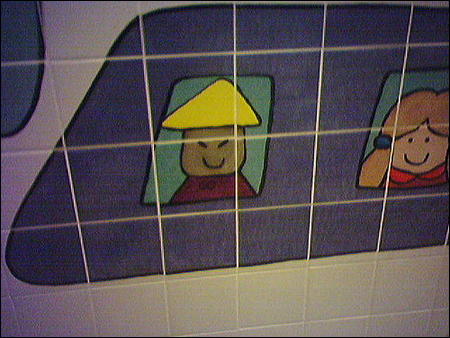 This is a photo of a mural spotted at Las Vegas International Airport. A few more blurry photos here and here. This was apparently done by an elementary school. Ah, there seems to be no better way to illustrate an Asian face than using the slanted eyes. He kind of looks like a Lego man. If you look closely, in one of the photos there's a train with a stereotype in every window. The things they teach kids these days... (Thanks, Alex.)


03.09.06

Los Angeles CityBeat has an interesting article on the growth of ethnic media: And Now the News. At the moment, American newspapers are in big trouble; circulation figures at some of the countryís top papers are hitting record lows. Meanwhile, ethnic publications like the Chinese Daily News are the fastest-growing media in the print world. It makes sense. It's like the articles says, once-marginalized people are now finding their voices, in their own languages.


03.09.06

Here's an article on actor B.D. Wong, who recent spoke to students at University of North Texas: Straddling cultures, star found his own identity


03.09.06

Chloe wins Project Runway! Chloe wins Project Runway! Chloe wins Project Runway! Yes, Chloe Dao was named the winner of Project Runway 2. Check it: Local designer wins fashion reality show. And here: Chloe wins second season of TV's "Project Runway". Here's a pre-finale interview with her: ...and Runway's Chloe!. And some more on her background: Adventures in The Rag Trade. She receives $100,000 to launch her own clothing line, a $24,000 Saturn vehicle, a spread in Elle magazine and a mentorship with Banana Republic. Woooo.


03.09.06

Sam Chu Lin, one of the first Asian American network television reporters, died in Burbank earlier this week at the age of 67: Chu Lin paved path for journalists. Chu Lin once persuaded ABC's Nightline to produce a program titled Asian American - When Your Neighbor Looks Like the Enemy and helped booked guests and find historical footage. He also won a National Headliner Award for the television documentary Chu Lin is an Old American Name. Obit here: Renowned Reporter, Sam Chu Lin, Dies At 67


03.09.06

According to an analysis of 2004 Census estimates, the influx of foreigners to New York and its suburbs and the continuing exodus of non-Hispanic whites to other parts of the country have transformed the face of metropolitan New York so profoundly that whites will constitute a minority of the region's population within a few years: Whites to Be Minority in N.Y. Soon, Data Show. The shift would make New York the first large metropolitan area outside the South and West in which whites do not make up a majority. Yo, that's crazy!


03.09.06

To parents who adopted children from China—are you sure your kid is legit? China is cracking down on the black market in abducted or purchased babies. Last month, a woman was sentenced to 15 years in prison after she was convicted, along with an orphanage director and eight others, for selling scores of abducted babies—78 of them last year alone—some of whom were adopted abroad: Baby Adoption Case Draws Scrutiny in China


UPDATE: Another article on this problem: Stealing Babies for Adoption


03.09.06

Had a whole bunch of people telling me about this one... In New York, Lori Kang was working at her parents' deli, when a crazy guy walked and started yelling at her, "I don't like Chinese people, why don't you shut up and go back to your country?" Kang forced him out the door, and he punched her in the face: RACIST DELI ATTACK. The article doesn't really say what happened after that. At any rate, that's racist!


03.09.06

Eh, more on Ang Lee's Best Director win for Brokeback Mountain: Ang Lee's Oscar hot topic in China. More here: China gushes praise on Ang Lee, cuts Taiwan mention. Suddenly he's the pride of China. Funny thing is, they won't be showing Brokeback in Chinese theaters any time soon. Still, that pesky Crash: Lee Disappointed Over 'Brokeback' Loss


03.08.06

Over the weekend Kristi Yamaoka, a cheerleader for Southern Illinois University, lost her balance during a routine and fell 15 feet onto her head, breaking her neck. The crazy part is, as they strapped her into a back and neck brace, she moved her arms and continued cheering. And the crowd went wild: Cheerleader continues cheering after breaking neck. Now that is some freaking spirit. There's video from a newscast here.


03.08.06

Here's an article on curriculum to teaching students about the Japanese American internment: Internment: It's not on the blackboard. I remember covering the internment in high school. My classmates and I did a group video project on it and everything. I think we got an A-. This is an important part of American history!


Meanwhile, there's currently a push in the Wisconsin state assembly for a bill that would require lessons in Hmong history in social studies classes in Wisconsin public schools: Bill would require lessons on Hmong. However, there's apparently little chance that it'll be passed this season.


03.08.06

Here's that strange and crazy two-minute American Express commercial featuring M. Night Shyamalan that aired during the Academy Awards: My Life My Card. YouTube's also got it here.


03.08.06

Heather Park's debut music video for her first single,"The Life remix," is available for viewing on YouTube. Check it out.


03.08.06

Kiwi A. D. Camara, the youngest graduate in the history of Harvard Law School (at age 19, in 2004), is the center of a recent controversy at Yale Law School regarding his use of racial slurs while in law school: Slur Use Burns HLS Graduate. Camara, who is Filipino America, apparently used racial slurs in an outline he made for a first-year property law course in March 2002. That's racist!


UPDATE: Another good article here: Symposium Guest's Word Stirs Controversy at Yale. Crazy, this incident thus far has actually overshadowed the scheduled appearance of controversial law professor John Yoo.


03.07.06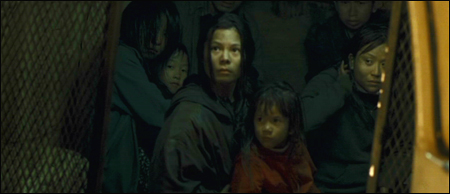 Welcome to America. Now get out of the van.


The fallout from Crash's big upset win at the Academy Awards... people are wondering what happened: Breaking no ground (Why Crash won, why Brokeback lost and how the academy chose to play it safe). Another commentary here: Oscar misfire: 'Crash' and burn (The Academy takes yet another step toward irrelevance with its latest pick). And more theories here: Was There a 'Brokeback' Backlash?


And some interesting reactions from the blogs...

Mixed Media Watch: Hollywood pats itself on the back

Reappropriate: crash and burn

Twice the Rice: Asians at the Academy Awards

Racial Pro-File: Oscar Winner "Crash"'s Tolerance has Its Limits

Rice Daddies: Rice Kings at the Academy Awards


Oh yeah, I'm with everyone who thought that Pat Morita sort of got the shaft during the whole "In Memoriam" montage.


03.06.06

Here's an in-depth article on Dave Liang, producer extraordinaire behind The Shanghai Restoration Project: Making his own noise. It takes a cool man to wear sunglasses at night (I don't think I've ever seen a photo of the man's eyes). Learn more about The Shanghai Restoration Project here.


03.06.06

Police in Manhattan are investigating a possible racially-motivated assault: Racial Slur Preceded Slashing of 3 in Manhattan, Police Say. According to the article:





A man with a box cutter slashed three men outside a Manhattan restaurant early yesterday, and the police said they were investigating whether racial bias motivated the attack.



The three men were entering the Gramercy Restaurant on Third Avenue at 17th Street with a fourth friend at 4:30 a.m., when two men on the sidewalk spoke to them, using a derogatory name for Chinese people, and performed mock karate moves, the police said.



The attackers were Hispanic, the police said, and the victims were of Asian descent. When the Asian men left the diner about 45 minutes later, the police said, the two Hispanic men had been joined by a third. One of them pulled out a box cutter, then cut three of the Asian men with it, slashing one in the face, one in the neck and one in the back.

That's racist!


03.06.06

Chinese singer Wang Lee-hom has released his second album of what he calls "chinked-out" music. Now, why in the world would you want to call it that? He says it's his attempt at reclaiming and reappropriating the slur: Wang Lee-hom óSinging hip-hop, Chinese style. I don't know, it doesn't really work for me. Nice try, dude.


03.06.06

New York City noise-rock/shoegaze band Kite Operations will be touring from the east coast to the midwest and back throughout this month. Woo! For more information, go here.


03.06.06

It's always interesting to see what they try to pass off as "cool"... like this shirt, coutesy of Guess. MISO what? Quick, what's a five letter word that starts with 'H', and ends with 'Y'? I'm pretty sure it's not 'HAPPY'. Lame. The worst part is, the t-shirt costs 29 freakin' dollars.


03.06.06

"In China she is admired but not read; in America, she is read but not admired." The New York Times has an interesting essay on writer Pearl S. Buck: Pearl of the Orient. Funny thing is, a lot of people are still under the impression that Buck was Chinese.


03.05.06

As expected by most, Ang Lee wins the directing Oscar for Brokeback Mountain. He is the first Asian person ever to win Best Director. It's about time. Yay.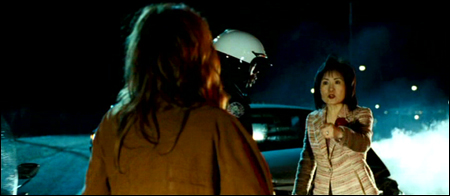 Another bad Asian driver.


The big suprise upset win of the evening was for Crash, which won Best Picture. A lot of people ask me what I thought of this film. Pretty interesting, I think. But as much as I wanted to like this movie, I just have HUGE problems with it. It's been applauded and acclaimed for being a candid, provocative take on race and tolerance. It's the kind of movie people like to walk out of feeling sort of satisfied with themselves for stepping out of their comfort zones, and being challenged with a subject they normally have the luxury of ignoring. And yes, I give it points for trying. But the film just falls short in a big way when it comes to—what else?—its portrayal of Asians. One of the major goals of this film is to show that race relations must extend beyond black and white, or good and evil, and on some levels, it succeeds. But the story, set in Los Angeles(!) and told with a multitude of diverse characters, blatantly leaves Asians out of the bulk of the conversation—as usual. All these characters are drawn with sympathy and complexity, but the Asian characters—revolving around a stereotypical bad driver and human trafficking operation—are decidedly one dimensional, and exist only to fulfill one of the other characters' redemption. It's frustrating and irresponsible. I know a lot of people are happy this film won, but I'm shaking my head over missed opportunities.


And yes, Memoirs of Geisha won three Oscars, for Costume Design, Cinematography and Art Direction. Hey, nobody denies that it's a nice-looking movie.


03.05.06

While today is considered Hollywood's biggest night, the Academy Awards, yesterday they handed out the Independent Spirit Awards, honoring the best in indie filmmaking: Independent Spirit Awards Spread the Wealth. They've always sort of been the anti-Oscars, which is funny, because most of this year's major Oscar nominees did not come from big Hollywood studios. Anyway, as expected, Ang Lee walked away with a Independent Spirit Award for Brokeback Mountain. Also definitely worth noting is Mora Stephens' Conventioneers, which won the John Cassavetes Award, which honors features made for under $500,000. It's playing in a few weeks at the San Francisco International Asian American Film Festival.


03.05.06

Here's a great, observant article in New York Times on the story and character evolution of Sun and Jin on Lost: This Is the Tale of Our Castaways


03.04.06

The New York Times has an article on the bleak situation facing immigrants and noncitizens seeking health care and medical attention: Recourse Grows Slim for Immigrants Who Fall Ill. Some say it's part of a larger xenophobic movement to end tolerance towards immigrants...


03.04.06

There's an interesting commercial that's been running regularly on Canadian television for Tim Hortons, a Canadian chain of coffee and donut shops. It features a relationship between a Chinese father and son (part of their "True Stories" series of commercials), and has apparently been airing on pretty heavy rotation, and getting a lot of attention. View it here (click on the "Every cup tells a story" image, bottom left corner). Kind of touching. Now go hug your dad. Though this article is a bit more cynical about the ad.


03.04.06

Here's an article about how Asian film industries are making efforts to challenge Hollywood's status as the worldwide entertainment industry juggernaut: Asian Filmmakers Fight Back Vs. Hollywood. If only they could find a way to prevent Hollywood from making pointless American remakes of Asian films.


03.04.06

The Fighting44s recently posted an interview with Orange County hip hop duo the Decyplz: Stalking the Middle Ground. I hadn't heard of them before, but the interview's pretty interesting. Check out their website: www.decyplz.com. Win a free CD!


03.04.06

Madhuri Dixit was once Bollywood's leading superstar... but she gave up acting, got married, had kids, and is now living a happy, relatively anonymous life in the United States: Indian Movie Star Enjoying U.S. Anonymity. Funny, that unbeknownst to American you, an international film star could be pushing a stroller right next to you on the street.


03.03.06

Oh no. When I heard Late Night with Conan O'Brien was doing a Chinese New Year segment with Triumph the Insult Comic Dog (it being the Year of the Dog and all) I pretty much expected the worst. And yeah, it's the usual schtick. It aired last night. View it here. I don't know how they got that accupuncture guy to play along like that. What idiocy! You've been warned...


03.03.06

Bummer. Jose 'Sway' Penala, our lone representative on American Idol, got voted off the competition last night. He had the second lowest number of votes. While it was disappointing (did you see the look on his mom's face?) you have to admit he wasn't the strongest talent in the competition. Still, he should've at least beat out that dorky kid with the glasses.


03.03.06

The latest issue of Sports Illustrated has an article on NBA players and their Chinese character tattoos: NBA Body Art. Yay, so what? I enjoyed Hanzi Smatter's take on the article.


03.03.06

The Academy Awards are this weekend... unless there is some kind of upset, it looks like Ang Lee could be the very first Asian filmmaker to win the directing prize for Brokeback Mountain: Ang Lee seen as front-runner in Oscar race


Also nominated are Hayao Miyazaki's Howl's Moving Castle for Best Animated Feature, Steven Okazaki's The Mushroom Club for Best Short Documentary, and producer Pia Clemente's Our Time Is Up for Best Short Film (Live Action). Clemente is the first ever Filipino American woman to receive an Oscar nomination in the 78-year history of the Academy Awards.


03.03.06

Check it out... Crossing East, the first radio series on Asian American history, has a podcast with excepts and behind-the-scenes buts from their shows. Updated every Wednesday.


The producers of Crossing East are currently in the process of getting individual NPR stations to air the show. So far, they have Seattle, Portland, Eugene, Las Vegas, San Fransicso and Hawaii committed. They've made the documentary. Now they need your support to get it on the air. Here's how you can help:





1. Find your local NPR stations here:
http://www.npr.org/stations/



2. Click on 'Visit K/W---'s Web Site'



3. Select 'Contact Us'



4. Write the station an email saying:



'I am very excited about hearing the Crossing East documentary. When are you going to air it? Are you going to have any other events for Asian American history month?



I am a resident of [your city]. I listen to [your station] for my news and information and I am a subscriber [if you are].
Thank you for all you do to bring our community closer together.'



5. If they write back, forward the message to info@crossingeast.org


For more information about the show, visit ww.crossingeast.org


03.03.06

East West Woman magazine is looking for the next perfect cover model as part of the 3rd annual "Face of East West contest." It could be you! The winner will be named the Face of East West 2006, featured on the publicationís December 2006 cover and will also be introduced to television audiences nationwide via one of the MTV World channels—MTV Desi, MTV Chi, or the soon-to-be-launched MTV K. Learn a little more here.


03.03.06

Oops. Steve Byrne's Comedy Central Presents special airs tonight—not tomorrow night, as I mentioned before. Tonight, Friday, March 3, 8/9c. Set your TiVos, because he's a funny guy.


03.02.06

Documentary filmmaker Christine Choy is the very first artist-in-residence for the Women of Color Film Festival, going on right now, March 2-5 at the Pacific Film Archive in Berkeley. In my book, Renee Tajima-Pena and Christine Choy's Academy Award-nominated documentary Who Killed Vincent Chin? is required viewing. Dig it?


03.02.06

This week's issue of Newsweek is all about Asia's other rising power: India Rising. Including an essay by Pulitzer Prize-winning writer Jhumpa Lahiri: My Two Lives. A short article on young Indian Americans: At Home: American Masala. And one with a very positive outlook on outsourcing: Outsourcing: Silicon Valley East


03.02.06

Here's an article on Grace Lee Boggs, a 90-year-old activist in Detroit, and probably the most interesting subject in The Grace Lee Project: Project shows how Detroit's Grace Lee stands out in a crowd. I think filmmaker Grace Lee has said that she actually decided to embark on making her documentary after meeting Grace Lee Boggs. She's just an interesting, inspiring figure.


03.02.06

Jeff Yang's latest "Asian Pop" column is a nice article surveying the landscape of Asian Americans in comedy: Laughing Matters


03.02.06

Photojournalist Nick Ut is responsible for shooting one of the most famous photos from the Vietnam War, from 1972: the image of a little girl, naked and screaming in agony, as she flees a napalm bomb attack. He won the Pulitzer Prize for that photo. This week, he celebrated a milestone: Photojournalist Nick Ut celebrates 40th year with AP. Ut originally joined the Associated Press to help support his family after his brother, also an AP photographer, was killed in 1965 while covering the Vietnam War. Look at him now! Taking photos of celebrities in trouble. It's the American dream.


03.01.06

Nicky SooHoo is in the cast of Stick It, a Bring It On-esque movie about gymnastics. Here's the trailer. I think she's the one doing a headspin on the balance beam.


03.01.06

Looks like director Ang Lee is going to take on another Marvel comics project... Hulk was sort of a disaster, but who'd have thought that Ang Lee would take on producing a film adaptation of The Hands of Shang-Chi: Master of Kung Fu? The 1970s comic book series about the son of evil mastermind Fu Manchu. The character was always C-list at best, and obviously created to cash in on the whole Bruce Lee craze of the era. Well, now it's going to be a movie, I guess. Directed by Yuen Woo-Ping, no less.


03.01.06

People have always had various outlandish theories about the mysterious circumstances surrounding Bruce Lee's death an allergic reaction to pain killers, a Hong Kong mob hit, a family curse... Now we have another theory, and it's pretty mundane (but still tragic): Epilepsy could solve mystery of Bruce Lee's death. According to James Filkins, at Cook County medical examiner's office in Chicago, it's far more likely that Bruce Lee died of "sudden unexpected death in epilepsy" a condition that wasn't even recognized until more than twenty years after he died. Kind of takes the mystique out of it, doesn't it?


03.01.06

For everyone who's ever wondered—but been afraid to ask—what's up with the whole F/P thing when you're talking about the Philippines/Filipinos? Finally, the quick and easy answer here: Mind Your P's and F's. You can download an audio version of this story (which might be helpful) here.


03.01.06

Ooh, the mysterious geisha who only speaks in haiku. What the heck is this: Sake With the Haiku Geisha. An off-Broadway play. Good thing geishas are so hot right now. Hey, who's tired of geishas?


03.01.06

This article is idiotic: Asia's Hormonic Convergence. Basically, it's about an article in Foreign Policy magazine titled "The Geopolitics of Sexual Frustration," which basically argues that China's overabundance of men will result in "mass sexual frustration"—and this could eventually cause war. Another one of these look-how-messed-up-Asia-is articles...


03.01.06

Model/singer-wannabe Tila Nguyen is on the cover of the latest Stuff Magazine. She apparently has the world's most popular MySpace page. I wonder why. The issue hits stands on March 7. But dude, is that a freaking samurai sword she's holding on the cover photo? Well, of course.