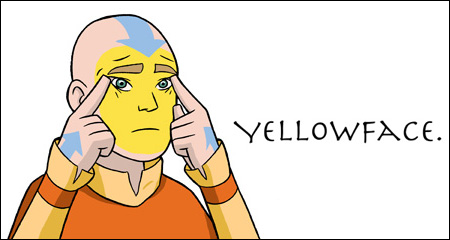 Jeff Yang's latest "Asian Pop" column is all about the controversy that's been raging among fans over the
whitewashed casting
of the live-action
Avatar: The Last Airbender
movie. Last month's announcement of an all-white principal cast caused an online uproar that's slowly stumbling outside the fandom and getting mainstream attention:
Bent Out of Shape
.
Among the most vocal fans are two of the most celebrated Asian American creators in comics:
Gene Yang
, National Book Award finalist for his graphic novel
American Born Chinese
, and
Derek Kirk Kim
, critically acclaimed author of
Same Difference
. Jeff interviews both of them for the piece.
Here's Derek's tirade over the casting, posted last week:
New day in politics, same old racist world on the silver screen
. And here are Gene's thoughts, posted today:
The Last Airbender Casting Controversy
. Both are well-written, thoughtful and angry considerations of the situation, from fans' perspectives.
This sucks. It's clear what's happening here -- the kind of
racist
casting that always happens in Hollywood. That said, I have to admit, I've never actually watched a full episode of
Avatar: The Last Airbender
... though from what I've seen, it's obvious that the show and its characters are all clearly Asian-inspired.
I think I'm going to order the DVD box set of
Avatar: The Last Airbender
Book 1
in order to be properly informed. Call it research. I'll tell you if it's any good.