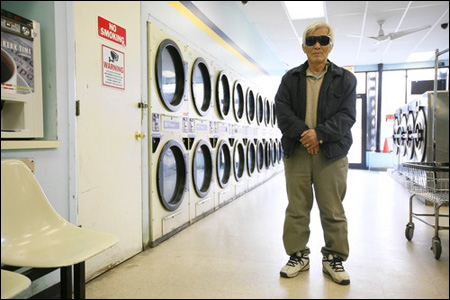 In Chicago, Ki Han, the 73-year-old manager of a west side laundromat, stood up to local loitering gangbangers and lived to tell the tale:
Chicago laundromat manager battered, bruised, but not beaten
.
On Monday night, a man confronted him in the laundromat, accusing him of "snitching." When Han picked up the phone to call police, 21-year-old Bennie Hale punched him in the face. Hale then destroyed computer equipment in the office and threw a microwave on top of Han.
But he's okay. Bruised and sore, but still totally badass. The old timer, a former tae kwon do master and veteran of the South Korean army is tough, stubborn and unafraid. Call him cranky, but he's obviously unwilling to take shit from anyone -- especially a bunch of street punks.
Hale, who has previous drug convictions, was charged with aggravated battery of a senior citizen. He appeared in court Tuesday and a judge set bail at $100,000.