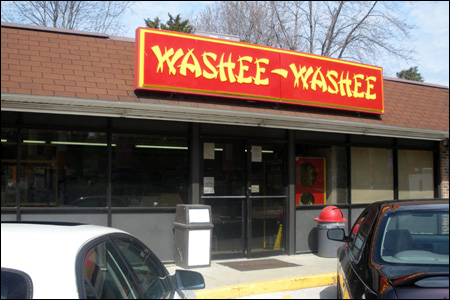 Following up on the post from a couple of weeks back on
the most racist laundromat in America
-- U-Washee in Richmond, Indiana -- here's a photo of what might be the second most
racist
laundromat, spotted and snapped outside Washee Washee in Caseyville, Illinois. Don't you just want to go in there and take a look around?
No idea if it has all the same fun,
racist
caricature signs
adorning the inside... but do note the use of extreme ching chong font out front. They just couldn't resist. I guess the implication is that Asians -- or at least, the obvious suggestion of Asian-ness -- will be extra effective in getting your clothes clean... even if you are just doing the coin-op laundry yourself.
(Thanks, Mike.)