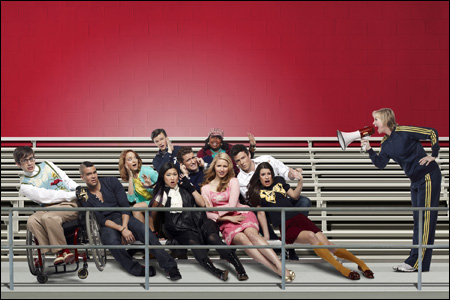 Were you one of the many
Glee
who submitted an audition video hoping for a shot at joining the cast of the show? Don't hold your breath. It's not happening. Fox has unceremoniously scrapped its plans for the reality show:
Fox's Plans for a Glee Reality Show Have Been Quietly Shelved
. The concern was that it would take focus away from the main series:
Fox unveiled the never-titled reality project last January at the same time it confirmed it was renewing Glee for a second season. It solicited audition videos on ye olde MySpace from contestants who wanted to compete for one of three new roles on the show; the ensuing happy-off would be filmed for an American Idol–like multipart special that would lead up to the season-two premiere. "There's never really been an unscripted program like this on television before," Fox reality overlord Mike Darnell promised at the time.

Now there still won't be. Though they collected the tryout videos, Murphy and Fox execs have since quietly agreed to kill the on-air competition after it became clear that working on the reality show would mean less time for planning season two (and the recently announced season three). As it is, Murphy and his team have already had their schedules crowded by such extracurricular events as the brief Glee live tour, multiple hit soundtrack albums, a trip to the White House, and, of course, Oprah.
Sorry, any of you
Glee
hopefuls will be signing on as "Other Other Asian" anytime soon. (Actually, that distinction is going to
Charice
.)
However, the producers still plan on choosing several winners from the online casting competition and giving them a spot on
Glee
, at least for one episode. Which is probably better off in the long run -- who wants to endure the crappy reality show aspect anyway?